Accademia Riaci
Lesson Reports
Read all class reports from our students!
Reporter
Morita
Nationality: Japan
Course: Shoe Making
Assistant
Aug. 06, 2014 | Posted in Reports, Shoemaking , Lesson Reporter | Tags:Morita, ShoemakingReporter: Morita | Course: Shoemaking
外羽接着製法、グッドイヤーウエルト製法5 6.3.2014
・It's important to cut the parts, keeping in mind the way the leather tends to stretch (photo on the left)
・To realize a Brogueing decoration on the toe cap, students last the shoe and make sure that it's been performed in the correct position (central and right photo)
・革の伸びる方向などを考えながらパーツを裁断します。(左)
・つま先部分に穴飾りを行うため一度吊り込みを行い位置を確認します。(中・左)
・Students attach the 5mm-thick heel, made by several layers of leather built up together (photo on the left)
・
Before placing the last layer, students secure the heel by hammering some nails inside it. (Central photo)
・The shoes are nearly completed (photo on the right)
・踵は厚さ5mm程度の革を積み重ねて貼り付けていきます。(左)
・最後の一枚を積む前に釘を打ち付けて踵を固定します。(中)
・皆さん完成間近です。(右)
・The filler used for the Goodyear welt, is about 6-mm width and its height roughly corresponds to half of the outsole surface
 (photo on the left)
・Once created the filler, students open up holes in order to perform the stitching
(central photo)
・Then, students draw a line to make visible the position of the holes. (photo on the right)
・グッドイヤーウエルト製法用の壁は高さは使う中底の半分程度で幅は6mm程度です。(左)
・壁ができたら縫いを行うための穴を予め開けておきます。(中)
・開けた穴位置が分かるように線を引きます。(右)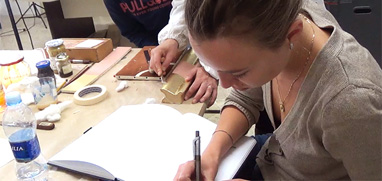 At Accademia Riaci, we are recruiting Course Reporters from our students. The students who are chosen to become Course Reporters are given 10 % of the tuition as their scholarship fee.
The Reporters who have submitted excellent reports will have his or her profile posted on our school website for the next 5 years as an alumnae and will be able to connect with their business chancesafter their graduation.