Accademia Riaci
Lesson Reports
Read all class reports from our students!
Reporter
Morita
Nationality: Japan
Course: Shoe Making
Assistant
Jul. 11, 2014 | Posted in Reports, Shoemaking , Lesson Reporter | Tags:Morita, ShoemakingReporter: Morita | Course: Shoemaking
外羽接着製法、グッドイヤーウエルト製法3 4.3.2014
・In order to reinforce the toe part, students attach the leather and adjust the shape (photo on the left)
・After having sewn the welt around the shoe, students apply the shank as structural reinforcement (central photo)
・Then, the shank is covered with leather, and the front part of the sole students attach the cork (photo on the right)
・つま先部分には補強のための革を貼り付けて整形します。(左)
・靴の周囲にウエルトを縫いつけた後シャンクという補強を付けます(中)
・シャンクを覆うように革を貼り付け、靴の前半分にはコルクを貼り付けます(右)
・They adjust the shape of the shoe outsole (pictures in the middle and left)
・The sole leather is cut out, lightly moistened with water and attach it when it's still half-dry (photo on the right)
・貼り付けたコルクを整形して靴の底面の形状を整えます(左・中)
・整形後に本底の革を切り出し軽く水で濡らして半乾きの状態で貼り付けます(右)
・The Moccasin sewing is performed from the reverse side of the leather (photo on the left)
・The stitches are not visible on the shoe surface: only the leather wrinkles (central photo)
・After observing what the teacher does, students try actually to perform the work. It's very important the way they pull the thread. (Photo on the right)
・モカ部分の縫いを革の裏側から行う技法。(左)
・表側からは縫いのシワが見え、縫いは見えないというものです。(中)
・先生の後に実際に生徒さんが作業を行いますが糸の引き具合が重要となります(右)
・When the welt is sewn, it is necessary to create the necessary thread; (photo on the right)
・The specific thread to sew the welt with the outsole is made by 3 thin threads tied together. (central photo)
・After attaching the toe box, the shoe shape must be adjusted. The teacher first shows his own sample (photo on the right)
・靴の周囲にウエルトを縫い付ける際に必要な糸を作ります。(左)
・本底とウエルトを縫い付ける為の糸は細い糸を3本より合わせて作ります(中)
・先芯を貼り付け後に形状を整形しますが先生がまず手本を見せます(右)

・It's a difficult procedure as the toe box can get scraped (left and central photo)
・Here is the sewing of welt and outsole )central and central/bottom picture)
・先芯は削る方向があるので以外と難しい作業です。(左・中)
・本底とウエルトを縫い付ける作業。(右・下左)
・Since the position of the hole is decided in advance by drawing a line, it is possible to check it even after the lasting (central photo)
・All the small parts, such as tassels, are all made by hand (photo on the right)
・予め穴の位置に線を引いて置くことで吊り込み後に穴の位置が確認できます。(中)
・タッセルなどの小さいパーツも全て手作りで作業を行います。(右)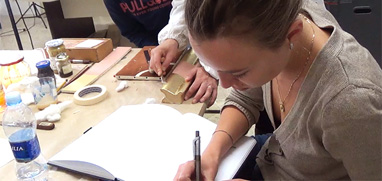 At Accademia Riaci, we are recruiting Course Reporters from our students. The students who are chosen to become Course Reporters are given 10 % of the tuition as their scholarship fee.
The Reporters who have submitted excellent reports will have his or her profile posted on our school website for the next 5 years as an alumnae and will be able to connect with their business chancesafter their graduation.