Accademia Riaci
Lesson Reports
Read all class reports from our students!
Reporter
Morita
Nationality: Japan
Course: Shoe Making
Assistant
Aug. 08, 2014 | Posted in Reports, Shoemaking , Lesson Reporter | Tags:Morita, ShoemakingReporter: Morita | Course: Shoemaking
接着製法、グッドイヤーウエルト製法1 11.3.2014
・Goodyear welt: after having wet the leather for the part where the outsole stitching will be performed, students put it back in place (photo on the left)
・Students build up several layers of leather to form a 5mm-thick heel (photo in the middle and on the right)
・グッドイヤーウエルト製法での出し縫い部分は革を濡らした後、元に戻します。(左)
・踵は厚さ5mm程度の革を積み上げて作っていきます。(中・右)
・Since the outsole stitching is 2mm thick, this step of the process requires concentration and attention (photo on the left)
・A file is used to smooth the shoe surface, and after that students proceed with the coloring and finishing
(central photo)
・With a hammer, the student is firmly attaching the wet leather part with the stitched outsole (photo on the right)
・出し縫いは間隔が2mm程度と細かいので集中した作業が必要となります。(左)
・靴の底はヤスリをかけて面を整えた後、着色をして仕上げていきます。(中)
・グッドイヤーウエルト製法での出し縫い部分は革を濡らした部分をハンマーなどでしっかりと接着します。(右)
・The sewing thread is a very important part so each time students don't understand they ask advice to the teacher (photo on the left)
・In the attaching method a special welt is used so that the appearance resembles that of a Goodyear style shoe (central and right photos)
・縫い用の糸は重要なモノなのでわからない事は都度先生に聞きながら進めます。(左)
・接着製法の場合は接着用のウエルトを用いて作る事でグッドイヤー製法の様な外観に仕上げることが出来ます。(中・右)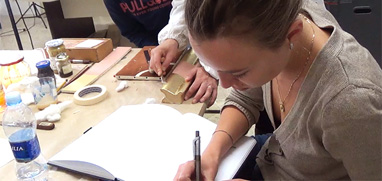 At Accademia Riaci, we are recruiting Course Reporters from our students. The students who are chosen to become Course Reporters are given 10 % of the tuition as their scholarship fee.
The Reporters who have submitted excellent reports will have his or her profile posted on our school website for the next 5 years as an alumnae and will be able to connect with their business chancesafter their graduation.