Accademia Riaci
Lesson Reports
Read all class reports from our students!
Reporter
Morita
Nationality: Japan
Course: Shoe Making
Assistant
Jul. 11, 2014 | Posted in Reports, Shoemaking , Lesson Reporter | Tags:Morita, ShoemakingReporter: Morita | Course: Shoemaking
外羽接着製法、グッドイヤー製法5 25.2.2014
・The students check the process of leather cutting together with the instructor, following carefully the paper pattern (photo on the left and central)
・In the Goodyear style, after having sewn the welt, we prepare the shank (photo on the right)
・型紙通りに革を裁断する手順を先生と一緒に確認しながら進めます。(左・中)
・グッドイヤー製法で周囲にウエルトを縫い付けた後、シャンクを入れる準備をします。(右)
・Students are checking the correct steps to attach the welt (photo on the left)
・For the welt sewing, students use a bundle made of 6 threads (central photo)
・The study of Goodyear welt method is addressed together with exercises on the Moccasin (central photo)
・グッドイヤー製法で周囲にウエルトを縫い付ける為の手順を確認します。(左)
・ウエルトを縫い付ける為の糸は細い1本の糸を6本ほど束ねて用します。(中)
・グッドイヤー製法でウエルトを縫い付ける方法をモカシンの練習と併せて行います。(中)
・This student attending the 2nd year is making a type of footwear with a constricted part on the sides (photos on left and center)
・For the attachment of outsole and heel, we use materials prepared in advance (photo on the right).
・2年目の学生さんは技術を必要とする踏まず周辺にくびれがあるタイプの靴を作製中。(左、中)
・接着製法では本底と踵は予め準備されたモノを使用します。(右)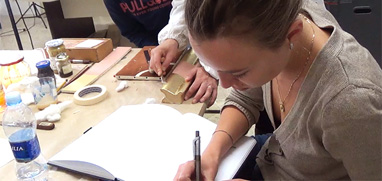 At Accademia Riaci, we are recruiting Course Reporters from our students. The students who are chosen to become Course Reporters are given 10 % of the tuition as their scholarship fee.
The Reporters who have submitted excellent reports will have his or her profile posted on our school website for the next 5 years as an alumnae and will be able to connect with their business chancesafter their graduation.