Accademia Riaci
Lesson Reports
Read all class reports from our students!
Reporter
Morita
Nationality: Japan
Course: Shoe Making
Assistant
Jul. 18, 2014 | Posted in Reports, Shoemaking , Lesson Reporter | Tags:Morita, ShoemakingReporter: Morita | Course: Shoemaking
外羽接着製法、グッドイヤー製法2 18.2.2014
・There are cases where the heel part is sewn by hand (photo on the left)
・We wet the insole to adapt it to the shoetree and fix it with nails, and finally adjust the shape
・In case students do not know each step, they will continue to work while reviewing along with the teacher. (Photo on the right)
・踵部分は手縫いでの縫い合わせを行う事もあります。 (左)
・中底は水で濡らして木型に合わせて釘で留めて形を整形します。(中)
・各手順が分からない場合は先生と一緒に復習しながら作業を進めていきます。(右)
・The contents are not only taught through printed instructions, but also using a variety of different materials (photo on the left)
・It's important to record each step of the process (central photo)
・Students exercise on how to sew a Moccasin, as preparation for making the Goodyear style stitching; (photo on the right)
・授業はプリントだけではなく、様々な資料を使って進めていきます。(左)
・各作業毎に記録をとる事は重要です。(中)
・グッドイヤー製法を行う前に縫い方の手順をモカシンの縫いとして練習します。(右)
・Students attending the 2nd year of program are way faster than the others
・The heel core tends to deviate easily from the lasting so it's important to pay sufficient attention in the work
・Sewing practice on Moccasin before performing the Goodyear-style stitching
・For Goodyear stitching we need to use a 
filler
・If the student is not familiar with this technique, before sewing he/she employs a special needle
 called "Regina" and punch holes
・In order to highlight the holes, we draw little dots with a pen
・2年目ともなると作業のスピードは他の生徒さんとは全く違いとても早く行います。
・踵周辺の吊り込みは踵芯がずれ易いので注意が必要です。
・グッドイヤー製法を行う前の縫い練習。モカシンの縫いも兼ねているので重要です。
・グッドイヤー製法では縫いに必要な壁を作ります。
・慣れない場合は縫いを行う前にレジナと言う針を使い穴を開けておきます。
・開けた穴の位置が分からなくならないようにペンで印を付けておきます。
・This is the insole used for Goodyear-style shoes
・It's extremely important to make notes on the new contents and techniques learnt during the class.
・グッドイヤーに使用する中底。
・授業の内容をしっかりとノートすることは大変に重要です。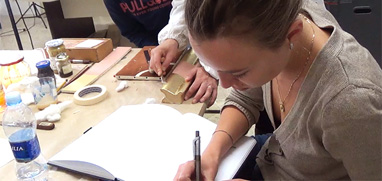 At Accademia Riaci, we are recruiting Course Reporters from our students. The students who are chosen to become Course Reporters are given 10 % of the tuition as their scholarship fee.
The Reporters who have submitted excellent reports will have his or her profile posted on our school website for the next 5 years as an alumnae and will be able to connect with their business chancesafter their graduation.