Accademia Riaci
Lesson Reports
Read all class reports from our students!
Reporter
Morita
Nationality: Japan
Course: Shoe Making
Assistant
Sep. 10, 2014 | Posted in Reports, Shoemaking , Lesson Reporter | Tags:Morita, ShoemakingReporter: Morita | Course: Shoemaking
グッドイヤーウエルト製法・ノルベジェーゼ製法・接着製法1 16.4.2014
・Leathers about 5mm thick are piled up to form a heel. (Picture left)
・After sewing the welt on, students cut the excess leather off, and then glue cork and leather on. (Picture center)
・This is the 2nd sewing in the Norwegian-style. (Picture right)
・踵は5mm程度の革を積み上げて仕上げていきます。(左)
・ウエルトを縫い付けた後、余分な革を切り取りコルクと革を貼り付けていきます。(中)
・ノルベジェーゼ製法での2回目の縫い。(右)
・Students finish off by applying cream on the entire surface before removing the shoetree. (Picture left)
・For neater finish, students fold in the cut section. (Picture center)
・He is struggling with his first shoe lasting. (Picture right)
・木型を抜き取る前にクリームを全体に塗り仕上げます。(左)
・切り口を折り返す事で仕上げが綺麗になります。(中)
・初めての吊り込みに苦戦しております。(右)
・The instructor teaches step by step how to perform shoe lasting and hammering nails. (Picture left)
・Cutting out paper patterns requires precision. It is very important as it has a great effect in the finished product.(Picture right)
・吊り込み方法や釘の打ち方は先生が丁寧に指導してくれます。(左)
・型紙の裁断は細かく大変ですが、仕上がりに大きく影響するので大切です。(右)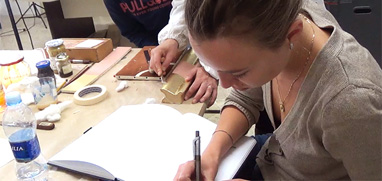 At Accademia Riaci, we are recruiting Course Reporters from our students. The students who are chosen to become Course Reporters are given 10 % of the tuition as their scholarship fee.
The Reporters who have submitted excellent reports will have his or her profile posted on our school website for the next 5 years as an alumnae and will be able to connect with their business chancesafter their graduation.