Accademia Riaci
Lesson Reports
Read all class reports from our students!
Reporter
Morita
Nationality: Japan
Course: Shoe Making
Assistant
Sep. 15, 2014 | Posted in Reports, Shoemaking , Lesson Reporter | Tags:Morita, ShoemakingReporter: Morita | Course: Shoemaking
グッドイヤーウエルト製法・接着製法9 29.4.2014
・Provisional shoe lasting is done to shape the shoe in the form of shoetree. (Picture left)
・This pair of pumps has a particular shape around the heel. It is important to reflect your idea into the design. (Picture center)
・Norwegian-style stitching is time-consuming because it needs to be done 3 times. (Picture right)
・仮吊り込みをして木型の形状をクセ付けします。(左)
・踵周りの形状が特徴的なパンプス。自分のアイディアを形にすることは大切です。(中)
・ノルベジェーゼの縫いは3回行うので手間が掛かります。(右)
・The Norweigian-style shoe looks like this after 3 times of sewing. (Picture left)
・The student is doing the outsole stitching for the Goodyear welt.
Sewing is done carefully because the spaces between stitches have a significant effect on the shoe finish. (Pictures center)
・The students communicate with the teacher as needed when working on a new model of the shoes. (Picture right)
・3回縫いが終了した状態のノルベジェーゼ製法の靴。(左)
・グッドイヤーウエルト製法の出し縫いを行っています。
縫いの間隔が仕上がりに大きく影響するので慎重に縫いを進めていきます。(中)
・新しいモデルを行う時は先生と話し合いながら作業を進めていきます。(右)
・A shank is inserted in the back half of the shoe. After this process, cork and leather are glued on. (Picture left)
・The student needs to roughen the sole surface of the adhesive method pumps in order to get a stronger adhesive strength. (Picture center)
・Provisional shoe lasting is done for both sides of the shoes. By letting them stand for about 1 day, the permanent shoe lasting will be easier. (Picture right)
・靴の半分より後ろの部分にシャンクを入れます。この後コルクと革を貼り付けます(左)
・接着製法のパンプスでは底面を荒らして本底との接着度を上げる必要があります。(中)
・左右の仮吊り込みを終えた状態。1日程度クセ付けをすると本吊り込みが良好です。(右)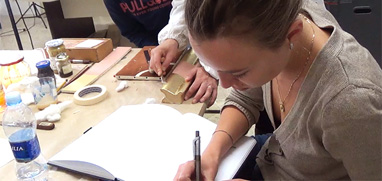 At Accademia Riaci, we are recruiting Course Reporters from our students. The students who are chosen to become Course Reporters are given 10 % of the tuition as their scholarship fee.
The Reporters who have submitted excellent reports will have his or her profile posted on our school website for the next 5 years as an alumnae and will be able to connect with their business chancesafter their graduation.