Accademia Riaci
Lesson Reports
Read all class reports from our students!
Reporter
Morita
Nationality: Japan
Course: Shoe Making
Assistant
Sep. 09, 2014 | Posted in Reports, Shoemaking , Lesson Reporter | Tags:Morita, ShoemakingReporter: Morita | Course: Shoemaking
グッドイヤーウエルト製法・接着製法8 15.4.2014
・After sewing the welt on, students shape around the shoe. (Picture left)
・Students sew the welt on using 7mm-sized stitches. (Picture center)
・The shoe lasting is done except for the toe parts. (Picture right)
・ウエルトを縫い付けた後、周囲を整形していきます。(左)
・ウエルトはおよそ7mm間隔で縫い付けていきます。(中)
・つま先部分を残してひとまず吊り込みが完了した状態。(右)
・Adhesive method shoe looks neat since there is no welt. (Picture left)
・This Goodyear welt shoe has a tight waist part. (Picture center)
・Because of the tight waist, a needle hit the shoe leaving lines when sewing. It needs to be improved as it does not look smart. (Picture right)
・接着製法ではウエルトが無いので見た目がすっきりとします。(左)
・グッドイヤーウエルト製法でウエスト部分が閉まっている靴。(中)
・ウエスト部分が閉まっているので縫いを行う際に針が靴に当たり線が付いてしまいます。
見た目にも悪いので今後の課題でしょう。(右)
・These are the shoetree and the upper before the shoe lasting. (Picture left)
・Adhesive method boots are finished. This student mainly produces adhesive method shoes. (Picture center)
・This loafer is being produced by McKay stitching. After this, the student will sew and then glue the sole on. (Picture right)
・吊り込み前の木型とアッパー。(左)
・接着製法でのブーツの完成。この生徒さんは接着製法がメインで制作しています。(中)
・マッケイ製法で制作を進めているローファー。この後縫いを行い底を貼り付けます。(右)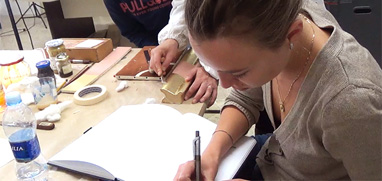 At Accademia Riaci, we are recruiting Course Reporters from our students. The students who are chosen to become Course Reporters are given 10 % of the tuition as their scholarship fee.
The Reporters who have submitted excellent reports will have his or her profile posted on our school website for the next 5 years as an alumnae and will be able to connect with their business chancesafter their graduation.