Accademia Riaci
Lesson Reports
Read all class reports from our students!
Reporter
Morita
Nationality: Japan
Course: Shoe Making
Assistant
Sep. 25, 2014 | Posted in Reports, Shoemaking , Lesson Reporter | Tags:Morita, ShoemakingReporter: Morita | Course: Shoemaking
グッドイヤーウエルト製法・接着製法11 1.5.2014
・Provisional shoe is made using felt sheets. (Picture left)
・This pair of adhesive method shoes has distinctive piled-up heels. (Picture center)
・Since it is important to keep the knife sharp all the times, students sharpen it using sandpapers. (Picture right)
・仮靴はフェルト生地を使用して行います。(左)
・踵の積み上げが特徴的な接着製法の靴です。(中)
・ナイフは常に切れる状態を保つことが重要なので、紙やすりなどを使いながら研ぎます。(右)
・Adhesive welt shoes do not look much different from the Goodyear stitch shoes. (Picture center)
・Permanent shoe lasting is more difficult than provisional one because a core is inserted into the heel and toe part. (Picture right)
・接着タイプのウエルトを使用した靴は見た目にグッドイヤー製法と変わらなく見えます。(中)
・本吊り込みは踵とつま先部分に芯が入るため仮吊り込みよりも難しい作業となります。(右)
・Shoe lasting at the toe part is done carefully as it affects pulling on the sides, the front and the back, which will change the shape of the shoe. (Picture left)
・Students can ask the instructor's support, whenever they have questions about the shoe design and procedures. (Pictures center)
・つま先部分の吊り込みは左右の引きや前後の引きが形状を左右するので慎重に行います。(左)
・デザインや手順など分からない部分は先生と一緒に作業を進めていきます。(中)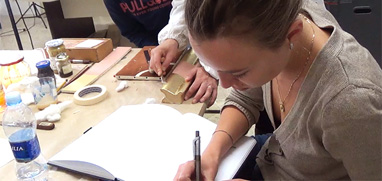 At Accademia Riaci, we are recruiting Course Reporters from our students. The students who are chosen to become Course Reporters are given 10 % of the tuition as their scholarship fee.
The Reporters who have submitted excellent reports will have his or her profile posted on our school website for the next 5 years as an alumnae and will be able to connect with their business chancesafter their graduation.