Accademia Riaci
Lesson Reports
Read all class reports from our students!
Reporter
Morita
Nationality: Japan
Course: Shoe Making
Assistant
Oct. 06, 2014 | Posted in Reports, Shoemaking , Lesson Reporter | Tags:Morita, ShoemakingReporter: Morita | Course: Shoemaking
グッドイヤーウエルト製法・ノルベジェーゼ製法 14.5.2014
・Students work with the instructor whenever preparing a paper pattern for new shoes, as its method varies greatly depending on the shoe style.(Picture left)
・Cutting out paper patterns is precisely done to make the following work easier.(Pictures center & right)
・型紙の取り方はモデルによって大きく異なるので都度先生と一緒に行います。(左) 
・型紙の裁断は後々のことを考えて正確に行います。(中・右)
・These Norwegian-style women's boots have distinctive manufacturing method of sewing 3 times.(Picture left & center)
・Students mark where to sew for the outsole stitching of Goodyear welt.(Picture right)
・ノルベジェーゼ製法の女性用ブーツ3回の縫いが特徴的な製法です。(左・中)
・グッドイヤーウエルト製法の出し縫い用に縫い位置をマーキングします。(右)
・This student is piling up 5mm thick leathers to form a heel.(Picture left)
・Students get deeper understanding in how to make a paper pattern as they work along with the instructor.(center)
・Rubber tubes are used to fasten the intermediate sole leather to the shoetree for proper shaping.(Picture right)
・厚さ5mmくらいの革を積み上げてヒールを積み上げて作っていきます。(左)
・型紙の取り方を先生と一緒に進めて理解を深めていきます。(中)
・中底の革を木型に合わせてゴムチューブで固定してクセ付けを行います。(右)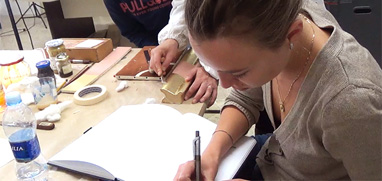 At Accademia Riaci, we are recruiting Course Reporters from our students. The students who are chosen to become Course Reporters are given 10 % of the tuition as their scholarship fee.
The Reporters who have submitted excellent reports will have his or her profile posted on our school website for the next 5 years as an alumnae and will be able to connect with their business chancesafter their graduation.