Accademia Riaci
Lesson Reports
Read all class reports from our students!
Reporter
Morita
Nationality: Japan
Course: Shoe Making
Assistant
Aug. 27, 2014 | Posted in Reports, Shoemaking , Lesson Reporter | Tags:Morita, ShoemakingReporter: Morita | Course: Shoemaking
グッドイヤーウエルト製法、接着製法3 26.3.2014
・At times, also the instructor makes his own shoe (left photo)
・The welt preparation is completed (central photo)
・The welt is sewn around the shoe (right photo)
・たまに先生が自分の靴を作ったりしております。(左)
・ウエルト製法の準備が完了です。(中)
・ウエルトを靴の周囲に縫い付けていきます(右)
・The Norwegian-style shoe is a type with no stitches around the heel.(left photo)
・All small part, such as tassels, are made by hand (central photo)
・Also all the steps required for the cutting process are manually performed.(right photo)
・ノルベジェーゼ製法ですが踵周辺の縫いのないタイプです(左)
・タッセルなどの細かなパーツも全て手作業で作ります。(中)
・ギザギザにカットする作業も全て手作業で行います。(右)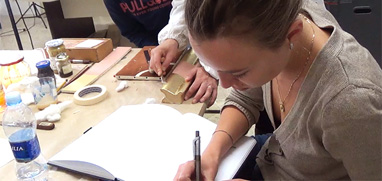 At Accademia Riaci, we are recruiting Course Reporters from our students. The students who are chosen to become Course Reporters are given 10 % of the tuition as their scholarship fee.
The Reporters who have submitted excellent reports will have his or her profile posted on our school website for the next 5 years as an alumnae and will be able to connect with their business chancesafter their graduation.