Accademia Riaci
Lesson Report
Up-to-date report from one of our students!
Reporter
Morita
Nationality: Japan
Course: Shoe Making
Assistant
Aug. 22, 2014 | Posted in Blog, Shoemaking , Lesson Reporter | Tags:Morita, Shoemaking | Language:


Reporter: Morita | Course: Shoemaking
グッドイヤーウエルト製法、接着製法1 20.3.2014
・Chain stitch performed on the outer periphery of the Norwegian-style shoe (left photo).
・In this case there is no stitching involved around the heel part. Students use, instead, the "overcast stitch" (central photo).
・Once attached the shank, students cover it with 2mm-thick leather (right photo).
・ノルベジェーゼ製法の外周のチェーンステッチ。(左)
・今回は踵周辺の縫いは無しなので踵部分はからげ縫いを行います。(中)
・シャンクを載せたあとに厚さ2mm程度の革を貼り付けます。(右)
・Cork is inserted in front of the leather part, and then the shape is adjusted (left photo).
・The edge is dyed with brow color and then finished (central photo).
・革の前の部分はコルクを載せて形状を整えます。(左)
・仕上げのコバは茶色い色で染色して仕上げていきます。(右)
・The student has already become familiar with how to create the paper pattern (left photo).
・In case a provisional shoe has been used, it's necessary to receive the instructor's check (right photo).
・型紙の作り方もだいぶ慣れてきた様子です。(左)
・仮靴の際は必ず先生にチェックしてもらいます。(右)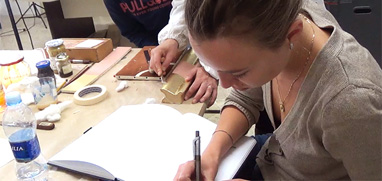 At Accademia Riaci, we are recruiting Course Reporters from our students. The students who are chosen to become Course Reporters are given 10 % of the tuition as their scholarship fee.
The Reporters who have submitted excellent reports will have his or her profile posted on our school website for the next 5 years as an alumnae and will be able to connect with their business chancesafter their graduation.