Accademia Riaci
Lesson Reports
Read all class reports from our students!
Reporter
Morita
Nationality: Japan
Course: Shoe Making
Assistant
Oct. 09, 2014 | Posted in Reports, Shoemaking , Lesson Reporter | Tags:Morita, ShoemakingReporter: Morita | Course: Shoemaking
グッドイヤーウエルト製法 20.5.2014
・Finished upper is now ready for shoe lasting over the shoetree.(Picture left)
・Students adjust the thickness of the heel core using files.(Picture center)
・When performing a shoe lasting, students make sure at all times that the upper is at where it's supposed to be.(Picture right)
・出来上がったアッパーを木型に吊り込んでいきます。(左)
・踵芯はヤスリで全体を削って厚さを調整します。(中)
・吊り込みを行う際はアッパーが設定の位置にあることを常に確認しながら行います。(右)
・These Goodyear welt shoes have very gouged plantar arch shape.(Picture left)
・As it is difficult to finish the plantar arch part for this type of shoes, accurate work is mandatory.(Picture center)
・The plantar arch line looks very beautiful from the outside.(Picture right)
・グッドイヤーウエルト製法ですが土踏まず部分が大きくえぐれたタイプの靴。(左)
・土踏まず部分の処理が難しいタイプの靴なので正確な作業が必となります。(中)
・外側から見ると土踏まずのラインが綺麗に見えます(右)
・Students tell the instructor the image of the shoes to they want to make, then proceed with the instructor.(Picture left)
・These are finished Moccasin shoes made by Goodyear welt.(Picture center)
・Sewing needs to be done neatly as it is hand-sewn.(Picture right)
・自分のイメージを先生に伝えて一緒に作業を進めていきます。(左)
・グッドイヤーウエルト製法のモカの完成です。(中)
・手縫いで行うため縫いを綺麗に行う事が必要です。(右)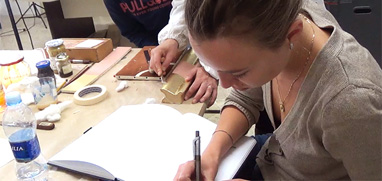 At Accademia Riaci, we are recruiting Course Reporters from our students. The students who are chosen to become Course Reporters are given 10 % of the tuition as their scholarship fee.
The Reporters who have submitted excellent reports will have his or her profile posted on our school website for the next 5 years as an alumnae and will be able to connect with their business chancesafter their graduation.