Accademia Riaci
Lesson Reports
Read all class reports from our students!
Reporter
Morita
Nationality: Japan
Course: Shoe Making
Assistant
Jun. 13, 2014 | Posted in Reports, Shoemaking , Lesson Reporter | Tags:Morita, ShoemakingReporter: Morita | Course: Shoemaking
・この生徒さんは革を一枚ずつ積み上げて踵を作っています。
・踏みあげた踵の周囲をナイフを使い仕上げています。
・積み上げが終わったら釘を打ち、踵をしっかりと固定します。
・最後の一枚は厚さ5mm程度のゴムを貼り付けます。
(全て革で仕上げることも可能ですが、滑り易いです。)
・This student has built up one by one several layers of leather and she's now making the heel
・Once the heel is ready, she hammers the nails to firmly fix it.
・On the last leather layer of the heel, she attaches a 5mm-thick rubber
(this is to prevent slippery shoes).
・踵を全て積み上げた状態で、つま先に鉛筆が1本入るくらいが正常な踵高さです。(上段中央画像)
・この生徒さんが使用した木型の様につま先が大きく反り返っている場合は木型を購入する際に設定踵高さを確認する必要があります。(上段左画像)
(この木型の設定踵高さは25mmなのでこの反り返りが正常となります。)
・踵の周囲はグラインダーで削った後、紙やすりを使いさらにさらに仕上げていきます。
・As reference, the correct height for the heel corresponds to 1 pencil placed below the toe part (see central image)
・In cases, like this, where the student used a curved shoetree, whose shape is reflected in the curved toe part, it is essential to check the heel height (Top left image)
・After scraping the heel with a grinder, we complete the polishing with the sandpaper.
・木型を抜き取り内側からさらに釘を打って踵を固定します。
・木型に固定するために張り出していた余分な革を切り取ります。
・靴の中敷を入れて完成です。
・After removing the shoetree we hammer some nails even from inside, to further secure the heel.
・Cut off the leather in excess
・After inserting the insole, the shoe is complete.
・こちらは2年目の生徒さん。
・ティロレーゼと言う製法の靴を作っています。
 (通常のグッドイヤー製法とは異なり細い革を靴の横に縫い付けていきます)
 2年目ではこの様に特徴的な靴を作ることも可能です。
・This student is attending the 2nd year of Shoe Making
・ "Tirolese" style of shoe. Unlike the common Goodyear stitching style, we sew thin leather on the sides.
At the second year of study at Accademia Riaci, it is possible to engage in more particular projects, like this.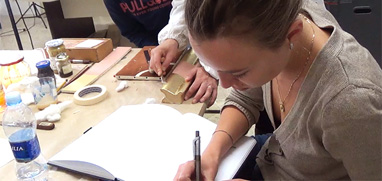 At Accademia Riaci, we are recruiting Course Reporters from our students. The students who are chosen to become Course Reporters are given 10 % of the tuition as their scholarship fee.
The Reporters who have submitted excellent reports will have his or her profile posted on our school website for the next 5 years as an alumnae and will be able to connect with their business chancesafter their graduation.