Accademia Riaci
Lesson Reports
Read all class reports from our students!
Reporter
Morita
Nationality: Japan
Course: Shoe Making
Assistant
Jun. 19, 2014 | Posted in Uncategorized , Lesson Reporter | Tags:Morita, ShoemakingReporter: Morita | Course: Shoemaking
うち羽 (接着)2
Removing the paper pattern
型紙取り続き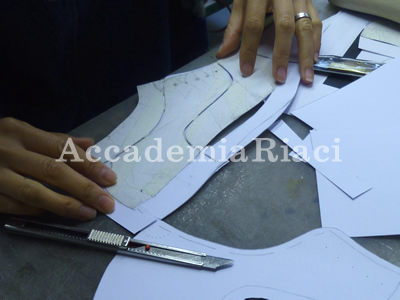 ・Now, we cut the cardboard with a cutter, at about 2mm distance from the design lines.
・厚紙に貼り付けたデザインテープ上に描いたデザインに合わせてカッターナイフを使い2mm程度の細い切り込みを入れます。
・Then, we attach the cut paper to a new cardboard, draw the edge lines of each shoe part and translate them to the new surface.
・細い切り込みを入れた型紙を新しい厚紙上にのせ、先に切り抜いた細い用いて各パーツの線を引き厚紙に写し取ります。
・We cut out each part, following the lines.
(we leave a margin of about 8mm in the overlapping
・parts)Once we have cut out all parts, we start by making a shoe sample for exercising.
・We apply the cloth-like material on each part, copy the shape and cut it off.
・厚紙に引いた各パーツのラインに合わせて各パーツを切り抜きます。
(重なり合う部分には8mmの余白をつけて切り抜きます)
・各パーツを全て切り抜いたらまずは試しの靴を作ります。
・生地状の素材に各パーツの型紙をのせ、形を写し取り切り抜きます。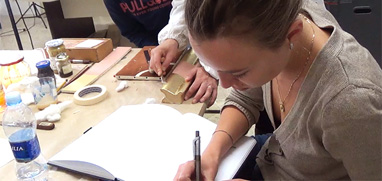 At Accademia Riaci, we are recruiting Course Reporters from our students. The students who are chosen to become Course Reporters are given 10 % of the tuition as their scholarship fee.
The Reporters who have submitted excellent reports will have his or her profile posted on our school website for the next 5 years as an alumnae and will be able to connect with their business chancesafter their graduation.