Accademia Riaci
Lesson Reports
Read all class reports from our students!
Reporter
Morita
Nationality: Japan
Course: Shoe Making
Assistant
Jul. 03, 2014 | Posted in Reports, Shoemaking , Lesson Reporter | Tags:Morita, ShoemakingReporter: Morita | Course: Shoemaking
うち羽接着製法5 05/12/2013
・We set the heel size and proceed with building up the leather layers


(the heel size corresponds approximately to 1/4 of the total length of the sole)
・The leather we use for the heel is about 4mm of thickness. As it's extremely rigid we need to pay attention in the process
(the scissors for cutting the leather are completely different from the normal type).
・踵の大きさを設定して革を一枚ずつ積み上げていきます。
 (踵の大きさは本底の全長のおよそ4分1程度が適当です)
・踵に使用する革は厚さ4mm程度で非常に硬いため加工には注意が必要です。
 (革を切るための鋏も通常のものとは大きく異なります)
・We actually try to wear the shoe and check whether it's comfortable and ergonomic on our foot
(For the very first pair of shoes, we don't modify the shoetree so in many cases it doesn't fit perfectly the feet).
・
In case the size doesn't fit, we ask to the teacher the measurement and we modify the shoetree.
(This student is going to use the modified shoetree from the second pair of shoe)
・実際に靴を履き自分の足に合っているかを確認します。
 (最初の1足目は特に木型の修正をしていないので、自分の足に合っているとは言えません。)
・サイズが合わない場合は先生による採寸を受けて木型を修正します。
 (この生徒さんの場合は2足目から修正した木型を使用する予定)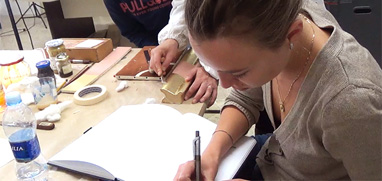 At Accademia Riaci, we are recruiting Course Reporters from our students. The students who are chosen to become Course Reporters are given 10 % of the tuition as their scholarship fee.
The Reporters who have submitted excellent reports will have his or her profile posted on our school website for the next 5 years as an alumnae and will be able to connect with their business chancesafter their graduation.