Accademia Riaci
Lesson Reports
Read all class reports from our students!
Reporter
Morita
Nationality: Japan
Course: Shoe Making
Assistant
Jul. 01, 2014 | Posted in Reports, Shoemaking , Lesson Reporter | Tags:Morita, ShoemakingReporter: Morita | Course: Shoemaking
うち羽接着製法
・This is Francis, second-year student of Shoe Making.
Compared to other students, he has reached a very high level of manufacturing skills
・2年目のフランシス。
他の学生とは違いかなり高度な製法の靴を制作しています。
・This is an insole women's shoes: unlike men's type,
once we have adjusted it to the shoetree, the put a shank and then cover it with the same leather.
women's shoes have higher heels, first of all we attach the shank.
・これは女性用の中底
男性物とは異なり、中底の革を木型に合わせた後でシャンクを置きその上から同じ革を被せます。
女性用は踵が高い為、最初にシャンクを貼り付けます。(男性用は後工程で行います)
・After the lasting, we flip over the external leather and last the internal leather part which touches the foot.
・On the toe part we apply a thin piece of leather as toe core, and then polish it using glass or a file.
・吊り込み後、外側の革をめくり足の当たる内側の革を吊り込みます。
・つま先部分に芯となる薄い革を貼り付け、ガラスやヤスリを使い形状を整えます。
・We apply a hardening agent on the leather that covers the heel
.
・The same process is applied to the internal part of the upper
.
・After inserting the core and put it on the shoetree, we adjust the height of the heel a bit higher than the usual standard.
・We proceed with the lasting, starting from the toe.
(the procedure follows always the same order.)
・踵芯となる革に硬化剤を塗ります。
・アッパーの内側にも同様に硬化剤を塗ります。
・芯を入れて木型にのせ、踵位置を設定の高さより少し高めに合わせます。
・つま先から順に全体を吊り込んでいきます。
(吊り込み手順は全てのデザインで同様に行うので非常に重要です。)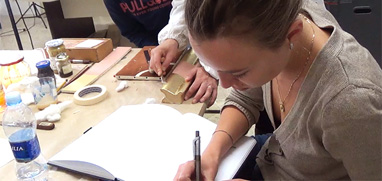 At Accademia Riaci, we are recruiting Course Reporters from our students. The students who are chosen to become Course Reporters are given 10 % of the tuition as their scholarship fee.
The Reporters who have submitted excellent reports will have his or her profile posted on our school website for the next 5 years as an alumnae and will be able to connect with their business chancesafter their graduation.