Accademia Riaci
Lesson Reports
Read all class reports from our students!
Reporter
Morita
Nationality: Japan
Course: Shoe Making
Assistant
Aug. 18, 2014 | Posted in Reports, Shoemaking , Lesson Reporter | Tags:Morita, ShoemakingReporter: Morita | Course: Shoemaking
接着製法、グッドイヤーウエルト製法2 12.3.2014
・The student slightly scrapes off the leather surface of the heel part with a knife (photo on the left)
・The student tries out the finished shoe to check the ergonomics.(photo on the right)
・踵を積む部分はナイフを使い革の表面を少し削って面を整えます。(左)
・完成した靴を試着して出来上がりを確認します。(右)
・After performing the welt stitching for the Goodyear, the student attach the shank (photo on the left)
・It's important to use a shoetree which has been adapted to fit the student's foot size (central photo)
・Then the student wears the shoes to check how they fit (photo on the right)
・グッドイヤーウエルト製法ではウエルトを掬い縫いした後、シャンクを貼り付けます。(左)
・木型は自分の足のサイズに修正したモノを使用するとが重要です。(中)
・完成した靴を履いて足当たりなどを確認します。(右)
・The insole of Norwegian style type has a different shape from the Goodyear's (photo on the left)
・
In the Goodyear welt method, the welt is fixed to the heel part with nails (photo on the left)
・To finish the edge students use a special tool (photo on the right)
・ノルベジェーゼの中底は通常のグッドイヤーウエルトとは形状が異なります。(左)
・グッドイヤーウエルト製法では踵部分のウエルトは釘で固定します。(左)
・コバの仕上げには特別な道具を用いて仕上げていきます。(右)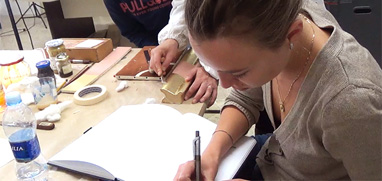 At Accademia Riaci, we are recruiting Course Reporters from our students. The students who are chosen to become Course Reporters are given 10 % of the tuition as their scholarship fee.
The Reporters who have submitted excellent reports will have his or her profile posted on our school website for the next 5 years as an alumnae and will be able to connect with their business chancesafter their graduation.