Accademia Riaci
Lesson Reports
Read all class reports from our students!
Reporter
Morita
Nationality: Japan
Course: Shoe Making
Assistant
Oct. 17, 2014 | Posted in Reports, Shoemaking , Lesson Reporter | Tags:Morita, ShoemakingReporter: Morita | Course: Shoemaking
接着製法、ノルベジェーゼ製法、グッドイヤーウエルト製法 29.5.2014
・Students put a completed upper over a shoetree and perform a provisional shoe lasting.(Picture left)
・Heel core is inserted when performing the shoe lasting.(Picture center)
・The depth of groove for Goodyear welt shoe should be equivalent to half the thickness of the intermediate sole.(Picture right)
・出来上がったアッパーを木型に合わせて一度、仮吊り込みを行います。(左)
・踵芯を入れて本番の吊り込みを行います。(中)
・グッドイヤーウエルト製法の溝は使う中底厚みの半分が目安です。(右)
・This student is making a pair of Tirolese stitching shoes using black and white leather.(Picture left)
・Tirolese stitching style is similar to Norwegian-style in the way the welt is sewn on the shoe side.
 This student is adding chain stitches to the regular stitches.(Pictures center & right)
・白と黒のコンビでティロレーゼを制作する学生さん。(左)
・ウエルトを靴側面み縫い付ける製法のティロレーゼ製法はノルベジェーゼ製法と似ています。
 この生徒さんは通常ステッチにチェーンステッチをプラスして縫いつけています。(中・右)
・The back of Moccasin stitches on the instep is covered with tapes so the glue does not leak out.(Picture left)
・These are a pair of loafers with all rubber sole, and a sandal with outside half open.(Picture center)
・It is important to use 2 strings when sewing the toe part of Goodyear welt shoes, because the needle holes get narrow causing the string easily getting torn off.(Picture right)
・甲の部分にモカ縫いがある場合は縫い目部分の裏側にテープをはり糊が外に出てこない様にします。(左)
・ソールを全てゴムで制作したローファーと外側半分がオープンなサンダル。(中)
・グッドイヤーウエルト製法のつま先部分の縫いは針の入り口が狭くなり、縫い糸を引く際に壁が千切れ易くなるため縫い糸とは別の糸を1本絡めながら縫うのがポイントです。(右)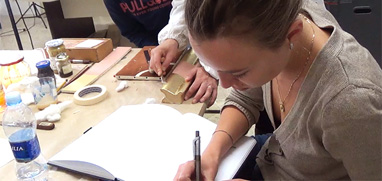 At Accademia Riaci, we are recruiting Course Reporters from our students. The students who are chosen to become Course Reporters are given 10 % of the tuition as their scholarship fee.
The Reporters who have submitted excellent reports will have his or her profile posted on our school website for the next 5 years as an alumnae and will be able to connect with their business chancesafter their graduation.