Accademia Riaci
Lesson Reports
Read all class reports from our students!
Reporter
Morita
Nationality: Japan
Course: Shoe Making
Assistant
Oct. 01, 2014 | Posted in Reports, Shoemaking , Lesson Reporter | Tags:Morita, ShoemakingReporter: Morita | Course: Shoemaking
接着製法・グッドイヤーウエルト製法・ノルベジェーゼ製法・ティロレーゼ製法1 7.5.2014
・Students make a groove on the sole surface for the outsole stitching of Goodyear welt. (Picture left)
・Students stick a needle from the top of the shoe through the groove they made on the outsole, as they continue on sewing. (Picture center)
・Students sew the welt on the side of Tirolese stitching shoes. (Picture right)
・グッドイヤーウエルト製法での出し縫いを行う為の溝を底面に作ります。(左)
・靴の上から針を刺し、底面に作った溝から針を出して縫いを進めていきます。(中)
・ティロレーゼ製法の靴。靴の横面にウエルトを縫い付けていきます。(右)
・This 2nd-year student is performing the hand-sewn McKay stitching. McKay stitching cannot be done by a big hand because the hand must be small enough to be put into the shoe after removing a shoe tree. (Picture left)
・Acrylic paint is used to color around a rubber heel. (Picture center & right)
・2年目の学生さんは手縫いのマッケイ製法を行っています。一度木型を抜き取り靴の中にてを入れて縫いを行うので、手の大きい人には出来ない製法です。(左)
・ゴム素材の踵周りの着色にはアクリル系の塗料を使用しています。(中、右)
・2mm-thick leather is used to be glued on the shank. (Picture left)
・This student is performing the first outsole stitching. After this, he will glue on the outsole and then perform another outsole stitching. (Picture center)
・Students cautiously try to cut out the paper patterns so they do not stray off from the lines drawn. (Picture right)
・シャンクの上に貼り付ける革は厚さ2mm程度の革を使用します。(左)
・ノルベジェーゼ製法の靴で、1回目の出し縫いを行っています。この後本底を貼り付け更にもう1回出し縫いを行います。(中)
・型紙の切り出しは描いたラインから外れない様に慎重に作業を行います。(右)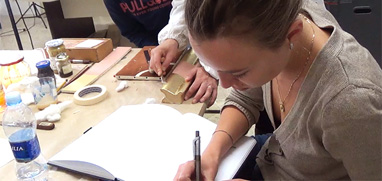 At Accademia Riaci, we are recruiting Course Reporters from our students. The students who are chosen to become Course Reporters are given 10 % of the tuition as their scholarship fee.
The Reporters who have submitted excellent reports will have his or her profile posted on our school website for the next 5 years as an alumnae and will be able to connect with their business chancesafter their graduation.