Accademia Riaci
Lesson Report
Up-to-date report from one of our students!
Reporter
Morita
Nationality: Japan
Course: Shoe Making
Assistant
Oct. 03, 2014 | Posted in Blog, Shoemaking , Lesson Reporter | Tags:Morita, Shoemaking | Language:


Reporter: Morita | Course: Shoemaking
接着製法、グッドイヤーウエルト製法、ノルベジェーゼ製法、ティロレーゼ製法3 13.5.2014
・A 2nd year student finished these Goodyear welt shoes.(Picture left)
・The plantar arch part is shaped inward, making the shoe as a whole look neat.(Picture center)
・This pair of women's summer shoes has wide openings on the side. (Picture right)
・2年目の学生さんのグッドイヤーウエルト製法の靴完成。(上左)
・土踏まずの部分が内側に入り込んでいるので、全体的にすっきりとした仕上がりの靴。(上中)
・靴の横の部分が大きくえぐれた靴。女性用の夏仕様の靴。(上右)
・These loafers have handcrafted tassels attached in the front.(Pictures left & center)
・These Tirolese stitching style shoes have welt sewn on the side. (Pictures right and bottom left)
・ローファータイプの靴。中央のタッセルも手作りです。(左・中)
・ウエルトを靴の横に縫い付けるタイプのティロレーゼ製法の靴。(右・下左)
・Students form a heal by piling up a few sheets of leather of 5mm thick.(Picture center)
・When forming heels by piling up leathers, students check the height of right and left heels as they proceed.(Picture right)
・踵は厚さ5mm程度の革を数枚積み上げて作ります。(中)
・積み上げヒールも場合は左右の高さを確認しながら作業を進めます。(右)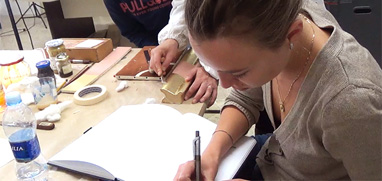 At Accademia Riaci, we are recruiting Course Reporters from our students. The students who are chosen to become Course Reporters are given 10 % of the tuition as their scholarship fee.
The Reporters who have submitted excellent reports will have his or her profile posted on our school website for the next 5 years as an alumnae and will be able to connect with their business chancesafter their graduation.