Accademia Riaci
Lesson Reports
Read all class reports from our students!
Reporter
Morita
Nationality: Japan
Course: Shoe Making
Assistant
Oct. 02, 2014 | Posted in Reports, Shoemaking , Lesson Reporter | Tags:Morita, ShoemakingReporter: Morita | Course: Shoemaking
接着製法・グッドイヤーウエルト製法・ノルベジェーゼ製法・ティロレーゼ製法2 8.5.2014
・For Tirolese stitching style, students cut off the leather showing on the sole surface while they adhere the leather on the shoe surface to the welt and skive it thinly. (Picture left)
・Students adhere leather over the shank, and cork over the front half for the Tirolese stitching style. It is the same procedure as the Goodyear welt. (Picture right)
・ティロレーゼ製法では裏側の革は切り取りますが、表の革は切り取らずに起したウエルトに接着して薄く漉きます。(左)
・ティロレーゼ製法でもシャンクの上には革を貼り付け、半分より前にはコルクを貼り付けます。手順的にはグッドイヤーウエルト製法と同じです。(右)
・Students cut out the insole leather, skive the edge, and put it in the shoe to finish. (Picture left)
・After the first outsole stitching is done for Norwegian-style, students cut off the surface leather as close as possible to these stitches. (Picture right)
・中敷用の革を裁断して周囲を薄く漉き、靴の中に入れたら完成です。(左)
・ノルベジェーゼ製法の靴では1回目の出し縫いが終わったら縫い目ぎりぎりの部分で表革を裁断します。(中・右)
・These are adhesive method pumps. Students will adhere the outsole and then even out the edge using a specialized tool. (Picture left & center)
・It's a hard work cutting out the outsole leather as it is 5mm thick and very hard. (Picture right)
・接着製法のパンプス。本底を貼り付けて周囲を専用の道具で慣らします。(左・中)
・本底に使用する革は厚さが5mmで硬いので必要サイズを切り出すだけでも一苦労です。(右)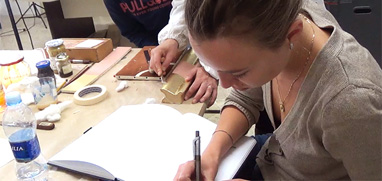 At Accademia Riaci, we are recruiting Course Reporters from our students. The students who are chosen to become Course Reporters are given 10 % of the tuition as their scholarship fee.
The Reporters who have submitted excellent reports will have his or her profile posted on our school website for the next 5 years as an alumnae and will be able to connect with their business chancesafter their graduation.