Accademia Riaci
Lesson Reports
Read all class reports from our students!
Reporter
Morita
Nationality: Japan
Course: Shoe Making
Assistant
Oct. 22, 2014 | Posted in Reports, Shoemaking , Lesson Reporter | Tags:Morita, ShoemakingReporter: Morita | Course: Shoemaking
接着製法、グッドイヤーウエルト製法、ノルベジェーゼ製法 4 5.6.2014
・Students mark where to sew for the 3rd time in the Norwegian-style shoe. (Picture left)
・The 3rd sewing is done in the same way as the normal Goodyear welt shoe. (Picture center)
・After the 3rd time sewing of Norwegian-style, students shape around the shoe by laying the leather edge back. (Picture right)
・ノルベジェーゼ製法での3回目の縫いを行う為の印を入れます。(左)
・ノルベジェーゼ製法の3回目の縫いは通常のグッドイヤーウエルト製法を同じです。(中)
・ノルベジェーゼ製法の3回目縫いの後は起した革を元に戻して周囲の形を整えます。(右)
・For Tirolese and Norwegian-style stitching, students make a groove directly on the sole around heel without folding up the leather. (Picture left & center)
・ティロレーゼ、ノルベジェーゼ製法では踵周辺の溝は革を起さず直接溝を掘ります。(左・中)
・This student has adhered a rubber, not leather, outsole to finish up the mountain-climbing style shoe. (Picture center)
・This shoe has been put together very well all around by a 2nd year student. (Picture right)
・登山靴風の靴を制作している学生さんは革ではなくゴム底を貼り付けて仕上げています。(中)
・2年目の学生さんは全体的に上手く纏めて仕上げています。(右)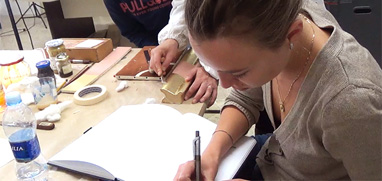 At Accademia Riaci, we are recruiting Course Reporters from our students. The students who are chosen to become Course Reporters are given 10 % of the tuition as their scholarship fee.
The Reporters who have submitted excellent reports will have his or her profile posted on our school website for the next 5 years as an alumnae and will be able to connect with their business chancesafter their graduation.