Accademia Riaci
Lesson Reports
Read all class reports from our students!
Reporter
Morita
Nationality: Japan
Course: Shoe Making
Assistant
Oct. 20, 2014 | Posted in Reports, Shoemaking , Lesson Reporter | Tags:Morita, ShoemakingReporter: Morita | Course: Shoemaking
接着製法、グッドイヤーウエルト製法、ノルベジェーゼ製法3 4.6.2014
・After adhering a metal shank, students glue on a 3mm thick leather covering it.(Picture left)
・This student is sewing the side of Tirolese shoe with chain stitches.(Picture center)
・Outsole is adhered for this Norwegian-style shoe after the 2nd time sewing is done. Now it's ready for the 3rd time sewing.(Picture right)
・金属製のシャンクを貼り付け、それを覆うように厚さ3mm程度の革を貼り付けます。(左)
・ティロレーゼ製法ですが横のステッチにチェーンステッチを混ぜ合わせています。(中)
・ノルベジェーゼ製法での2回目の縫いを終えて本底を貼り付け3回目の縫いを行います。(右)
・The sewing on the side of Norwegian-style shoe is very important. Because the thickness of the thread and the size of stitches change how the shoe looks at the end, students needs to perform it carefully.(Picture left)
・This shoe has its plantar arch part made by McKay stitching, and the front half part made by Goodyear welt.(Picture center)
・A hard leather about 5mm thick is used to make an outsole. Students proceed with cutting as they check which section of a sheet of leather is suitable for making outsoles.(Picture right)
・ノルベジェーゼ製法では靴側面の縫いが重要です。糸の太さやステッチの間隔などで作品の表情が大きく変わってきますので慎重な作業が必要となります。(左)
・土踏まず部分をマッケイ製法で、それよりも前をウエルト製法で作製しています。(中)
・本底は厚さ5mm程度の硬い革を使用します。1枚の革のどの部分が適しているかを確認しながら裁断を行います。(右)
・When performing Norwegian chain stitches, students try not to twine threads in a wrong order. Omitting stitches around heels makes the finished product look neater.(Picture left)
・This student does not have many lessons left, so he is in a hurry making these adhesive method loafers.(Picture center)
・ノルベジェーゼ製法のチェーンステッチでは糸を絡める順序を間違えない様に作業を行います。踵周辺の縫いを無くす事で仕上がりはすっきりとしたものになります。(左)
・接着製法でのローファー。授業も残り少ないので急ピッチで作業を進めています。(中)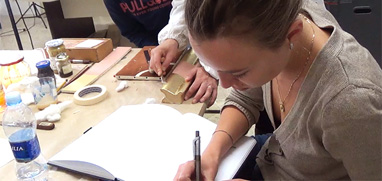 At Accademia Riaci, we are recruiting Course Reporters from our students. The students who are chosen to become Course Reporters are given 10 % of the tuition as their scholarship fee.
The Reporters who have submitted excellent reports will have his or her profile posted on our school website for the next 5 years as an alumnae and will be able to connect with their business chancesafter their graduation.