Accademia Riaci
Lesson Reports
Read all class reports from our students!
Reporter
Morita
Nationality: Japan
Course: Shoe Making
Assistant
Oct. 16, 2014 | Posted in Reports, Shoemaking , Lesson Reporter | Tags:Morita, ShoemakingReporter: Morita | Course: Shoemaking
接着製法、グッドイヤーウエルト製法、ノルベジェーゼ製法2 28.5.2014
・The shoe lasting technique can only be improved by performing it a number of times. (Pictures left, center, right)
It is very important that the shoe center is not off to the side, the upper is pulled enough from all around, there is no protrusion from the shoetree, and so on.
・吊り込みは回数をこなすことでしか上達はしません。(左・中・右)
中心がずれない事や全体の引きが十分である事、木型から浮いていないことなどなど。。。
・Students adhere a filler leather before gluing on the outsole.(Picture left)
・This 2nd year student is skillfully cutting out the pattern papers.(Picture center)
・These adhesive method pumps have appealing large bicolor tassels. (Picture right)
・本底を貼る前に中物の革を貼り付けます。(左)
・2年目の学生さんは手馴れた感じで型紙を裁断しています。(中)
・接着製法でのパンプス。タッセルの大きさと色違いなところがポイントです。(右)
・Mountain climbing shoe-style upper is finished. The student is now trying out various kinds of cushion materials.(Picture left)
・Norwegian-style shoe has very distinctive chain stitches on the side.(Picture center)
・Students put parts together with a weak glue before using a sewing machine.(Picture right)
・登山靴スタイルのアッパーが完成しました。クッション材を色々と試しています。(左)
・靴の側面の縫いが特徴的なノルベジェーゼ製法。チェーンのステッチをしています。(中)
・各パーツを接着力の弱い糊で貼り合せてミシンで縫っていきます。(右)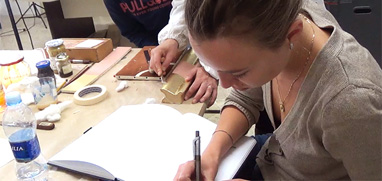 At Accademia Riaci, we are recruiting Course Reporters from our students. The students who are chosen to become Course Reporters are given 10 % of the tuition as their scholarship fee.
The Reporters who have submitted excellent reports will have his or her profile posted on our school website for the next 5 years as an alumnae and will be able to connect with their business chancesafter their graduation.