Accademia Riaci
Lesson Report
Up-to-date report from one of our students!
Reporter
Morita
Nationality: Japan
Course: Shoe Making
Assistant
Oct. 10, 2014 | Posted in Blog, Shoemaking , Lesson Reporter | Tags:Morita, Shoemaking | Language:


Reporter: Morita | Course: Shoemaking
接着製法、グッドイヤーウエルト製法1 21.5.2014
・This student is making a pair of sandals. He is now adhering the outsole to finish it off.(Picture left)
・These are the student's sandals, all completed. (Picture center)
・Since paper patterns make a big difference in the finished product, students cut them out precisely.(Picture right)
・サンダルを制作している学生さん。底を貼り付けて完成となります。(左)
・自分専用のサンダルの完成です。(中)
・型紙は出来上がりに大きく関わるものなのでデザインのラインを正確に切り抜きます。(右)
・Students precisely cut out the intermediate sole along the line around the shoetree sole.(Picture left)
・Students show their design to the instructor and correct it in detail. (Picture center)
・Students use cardboards to cut out each part. (Picture right)
・中底の加工は木型の底面に合わせて確実に切り出していきます。(左)
・自分のデザインを先生に見てもらい、細かい部分を修正していきます。(中)
・厚紙を使用して各パーツを切り出します。(右)
・Crocodile embossed cowhide is used for this double-belted shoe.(Picture left)
・This student is handcrafting a leather cord for hemming by inserting a string between skived leather.(Picture center)
・The shoe lasting is done for this pair of Moccasin shoes except for the toe parts.(Picture right)
・鰐皮スタンプの牛革を使ったダブルベルトの靴。(左)
・縁取り用の革ひもは薄く漉いた革の間に糸を挟み込み手作りします。(中)
・つま先部分を除いて吊り込みを終了したモカ靴。(右)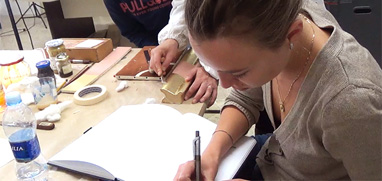 At Accademia Riaci, we are recruiting Course Reporters from our students. The students who are chosen to become Course Reporters are given 10 % of the tuition as their scholarship fee.
The Reporters who have submitted excellent reports will have his or her profile posted on our school website for the next 5 years as an alumnae and will be able to connect with their business chancesafter their graduation.