NEWS and Blog
Jul. 19, 2013 | Posted in RIACI NEWS | Tags:

ACF FIORENTINA
Good morning everyone,
Soccer in Italy is something more than just passion, soccer means culture! Many Italians truly love it and feel it as part of their everyday life.
Also the city of Florence –where Accademia Riaci is located – has its traditional soccer team, called Fiorentina.
Fiorentina has different nick-names, one of this is "the purple team", because of the players' uniforms official color ("Viola", in Italian). Fiorentina players are also called "I gigliati" – the "lilied" – since they carry a lily on their purple shirts; this flower is known as the historical emblem of the city.
To reach Florence home stadium (Stadio Artemio Franchi), you have to get on the bus n.17 from the rotary in front of "S.M. Novella" central train station. There is also a bus stop right next to the Duomo, a few meters away from Accademia Riaci.
Games are taking place weekly on Saturday and Sunday. It's a great chance to experience the real Calcio (soccer) during your stay in Florence!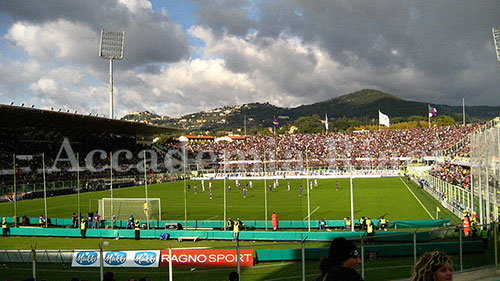 [contact-form-7 404 "Not Found"]