Up-to-date report from one of our students!
Sep. 08, 2014 | Posted in CourseShoe, Blog, LessonReport, Shoemaking | Tags: Shoe Making, Morita | Language:


Reporter: Morita | Course: Shoe Making Course
グッドイヤーウエルト製法・接着製法7 3.4.2014
・Every time there is a problem with the design etc. the students consult the instructor and improve together the project (left photo).
・As for the paper pattern, students create a 2mm narrow groove (central photo).
・The external paper pattern is completed and now the student proceeds with the internal paper pattern (right photo).
・デザインなどで困ったときは先生と一緒に考えてより良いデザインを作ります。(左)
・型紙は部分的に2mm程度の細い溝を作ります。(中)
・外側の型紙が完成です。引き続き内側の型紙を作っていきます。(右)
・Once the outsole stitching is done, students put back the leather in the original position and hide the stitches (left photo).
・This is the making of a boot with a very original shape (central photo).
・There are cases when the assembled part of the heel is sewn by hand (right) photo.
・出し縫いが終了したら起してある革を戻して縫いを隠します。(左)
・特徴的な形をしたブーツを製作中。(中)
・踵の合わせ部分などは手縫いで行う事もあります。(右)
・Student last the shoe using a "pinza"(pliers).
・The student is polishing the extremities of the cut leather to assure a beautiful finishing (central photo).
・It's also possible to create a pattern by painting the sole with different colors (right photo).
・吊り込み用のpinzaを使用して革を吊り込みます。(左)
・裁断した革の切り口を綺麗にすると出来上がりは更に良いものとなります。(中)
・靴底は色を塗り分けて模様を描く事も可能です。(右)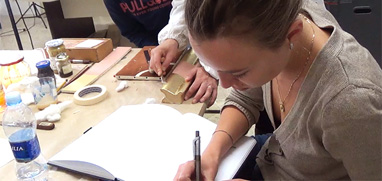 At Accademia Riaci, we are recruiting Course Reporters from our students. The students who are chosen to become Course Reporters are given 10 % of the tuition as their scholarship fee.
The Reporters who have submitted excellent reports will have his or her profile posted on our school website for the next 5 years as an alumnae and will be able to connect with their business chancesafter their graduation.