Up-to-date report from one of our students!
Aug. 25, 2014 | Posted in CourseShoe, Blog, LessonReport, Shoemaking | Tags: Shoe Making, Morita | Language:


Reporter: Morita | Course: Shoe Making Course
グッドイヤーウエルト製法、接着製法2 25.3.2014
・Even the tiny holes are performed with extreme accuracy (left photo).
・This student is attending the 2nd year of Shoe Making (central photo).
・When lasting a shoe it's important to check that the left and right borders are aligned (right photo).
・細かい穴も丁寧な作業で開けていきます。(左)
・2年目の学生さんは作業中でも余裕の表情です。(中)
・吊り込み作業は必ず左右の引き込み状態を確認しながら作業します。(右)
・Students help and teach each other while working on their own shoes (left photo).
・The sole finishing is performed using sandpaper and glass fragments (central photo).
・The last retouching and the shoe is completed (right photo).
・学生さん同士で作業を教えあいながら作業を進めることもあります。(左)
・靴底の仕上げはガラス片と紙やすりを使って作業をします。(中)
・最終の磨きをして完成です。(右)
・When employing enamel it's important not to make any mistake while using the sewing machine (left photo).
・The student folds the thin piece of leather sewn on the edges and polish the shoe (central photo).
・When lasting with enamel, it's important to perform the task more gently and slowly than when using the leather (right photo).
・エナメルはミシンがけの失敗が許されないので慎重に作業します。(左)
・周囲に薄い革を縫い付けてそれを折りかえし周囲を綺麗にします。(中)
・エナメルの吊り込みは通常の革よりも弱めの力でゆっくりと吊り込んでいきます。(右)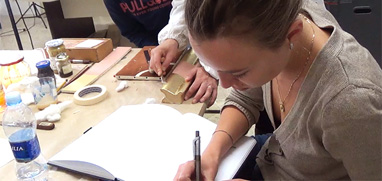 At Accademia Riaci, we are recruiting Course Reporters from our students. The students who are chosen to become Course Reporters are given 10 % of the tuition as their scholarship fee.
The Reporters who have submitted excellent reports will have his or her profile posted on our school website for the next 5 years as an alumnae and will be able to connect with their business chancesafter their graduation.