Up-to-date report from one of our students!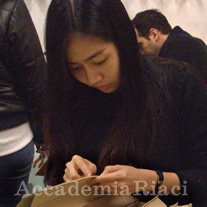 Reporter
Thacha R.
Nationality: Thai
Course: Bag Making
Program: Master course in Bag Making
Period: 2014.2.24 - 2014.12.12
See all reports by this student
Miss Thacha, after studying various techniques and a unique style in her country from a trainer who graduated at Accademia Riaci, she decided to go to our school to attend our Master course in Bag Making. "I consider Florence as the heart of leather art where not only big industry and traditional artisanship is flourished, but also a place where I can learn and absorb everything around me, keeping my motivation and creativity high all the time".
She also attended a semester course in Italian Language at ABC de' Conti.
Jun. 26, 2014 | Posted in Blog, Report Bag, Student Reports, Bag Making & Leather Arts | Tags: Bag Making, Thacha R. | Language:


Reporter: Thacha R. | Course: Bag Making Course
1. Our teacher is teaching how to do lining.
2. Classmates are making their own handbag in class.
3. In class, every students will be practiced to use a sewing machine.
4. Some parts of bag before be sewn.
5. A student is sewing some parts of her bag.
6. Our teacher is showing how to spin the thread.
7. Our teacher is teaching how to use a sewing machine. As you see in the photo, in our class has an interpreter who can translate fluently italian-English.
8. A bag is in progress. It made by using weaving technique and it will be sewn together after.
9. Classmate is gluing some part of her crossed-body bag. (sew by sewing machine)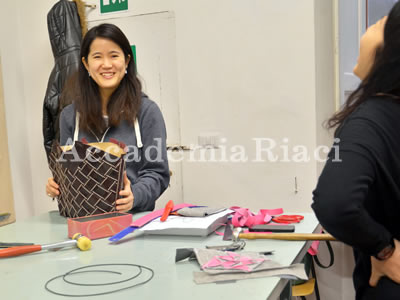 10. Class's atmosphere when we are working.
11. My classmate's hand bag is in progress. It is formed by weaving leather.
12. this two parts of bag will be sewn together (the front and the back part)
13. This bag is sewn by sewing machine. As you can see, you can create your own unique design on your bag.
14. The atmosphere in our class when the student finished his bag.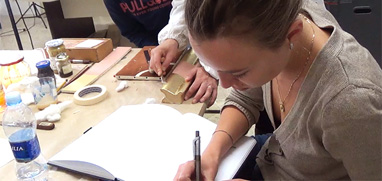 At Accademia Riaci, we are recruiting Course Reporters from our students. The students who are chosen to become Course Reporters are given 10 % of the tuition as their scholarship fee.
The Reporters who have submitted excellent reports will have his or her profile posted on our school website for the next 5 years as an alumnae and will be able to connect with their business chancesafter their graduation.