Accademia Riaci
Lesson Reports
Read all class reports from our students!
Reporter
Morita
Nationality: Japan
Course: Shoe Making
Assistant
Jul. 17, 2014 | Posted in Uncategorized , Lesson Reporter | Tags:Morita, ShoemakingReporter: Morita | Course: Shoemaking
外羽接着製法、グッドイヤー製法1 13.2.2014
・Also for Goodyear stitching, the lasting process is the same
・This student is planning to realize a Brogueing decoration on the toe cap
・We insert a toe core and this is how the lasting looks like on the leather surface
・グッドイヤー製法の場合も吊り込み方法は今までと同じです。
・この生徒さんはつま先部分の穴飾りが次回の課題と言う事です
・つま先部分に芯を入れ、表の革を吊り込んだ状態です。
・We set he heel size made of built up layers of leather
(the heel size corresponds to 1/4 of the whole sole length)
・There is a predetermined standard height for the heel, that we reach by building up leather layers
・With a grinder we polish around the heel.
・積み上げをする踵の大きさを設定します。
(踵の大きさは底の全長の四分の一程度が一般的です。)
・踵部分は革を積み上げて所定の高さに設定します。
・グラインダーを使用して踵の周囲を整えます。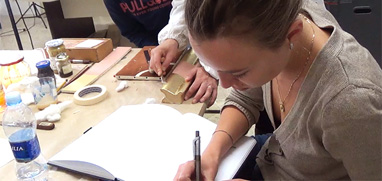 At Accademia Riaci, we are recruiting Course Reporters from our students. The students who are chosen to become Course Reporters are given 10 % of the tuition as their scholarship fee.
The Reporters who have submitted excellent reports will have his or her profile posted on our school website for the next 5 years as an alumnae and will be able to connect with their business chancesafter their graduation.