Italian Home Cooking
Overview
Overview
Curriculum and Schedule
Sample Menu
Inquiry
Curriculum and Schedule
| | | | | |
| --- | --- | --- | --- | --- |
| | Subject | Schedule | Credit | Days and time |
| 1 week | Full-Course | Start every monday | NC | M.Tu.W.Th., 10:30-13:30 |
| 2 weeks | Full-Course | Start every monday | NC | M.Tu.W.Th., 10:30-13:30 |
| 3 weeks | Full-Course | Start every monday | NC | M.Tu.W.Th., 10:30-13:30 |
| 4 weeks | Full-Course | Once a month on Monday | NC | M.Tu.W.Th., 10:30-13:30 |
| 8 weeks | Full-Course | Once a month on Monday | NC | M.Tu.W.Th., 10:30-13:30 |
| 12 weeks | Full-Course | Once a month on Monday | NC | M.Tu.W.Th., 10:30-13:30 |
*Accademia Riaci reserves the right to withdraw or modify the courses of instruction or to change the instructors as may become necessary.
*if you would like to take cooking in specialized area, you can request to us anytime.
Italian Home Cooking Examples
A sample menu for 1 week
Entrée
Red and yellow pepper crostini
Pigeon meat crostini
Valetiana parmesan cheese taste
Crostini with clam

First dish
Risotto parmesan cheese taste 
Spaghetti with basil past 
Pumpkin soup
Spaghetti dried mullet roe taste
Main dish
Chicken of the Palio
Roast sparerib and potato
Mix fry, chicken-rabbit-vegetable
Sicilian style mackerel
Dessert
Apple flitter 
Tuscan style ring cake with anis liqueur
Crème caramel
Fruit dessert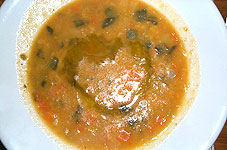 A sample menu for 1 month
Week 1
Entrée 
Mix vegetable crostini
Eggplant carpaccio
Tuscan crostini
Carrot, apple and cheese salad 

First dish
Carbonara
Risotto with carrot and echalote
Tuscan minestrone
Classic Lasagna 

Main dish + side dish 
Stuffed turkey with spinach
Florence style stewed plucks with potato
Fagottini with cabbage
Mix salad

Dessert 
Ricotta cheese cake
Fruit roll
Yukki apple tart 
Classic tiramisu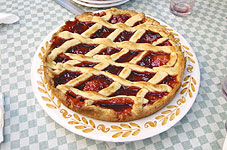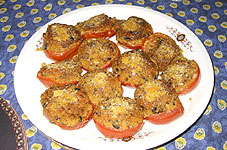 Week 2
Entrée
Marinated sardines 
Black cabbage crostini
Tomato in oven 
Little cup salad

First dish
Cuttlefish ink flavor risotto
Vegetarian source pasta
Nude ravioli 
Lemon flavor risotto

Main dish and side dish
Sword fish rolls with mini-tomato 
Pizza source stew with potato 
Pork with apples 
Mini-rolls with artichokes 

Dessert
Crostata with marmalade 
Cookie of Prato
Apple and walnuts pie 
Florence style chestnut cake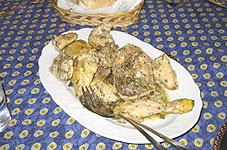 Week 3
Entrée
Mushroom crostini
Coccoli
Octpus salad
Tomato in oven

First dish
Leek onion soup
Pasta with artichokes
Grosseta style tagliatelle
Pasta and broccoli

Main dish and side dish
Red pepper flavor pork
Chicken with vegetable
Sardine quiche 
Mini-rolls with apples

Dessert
Rice cake
Brutti e buoni
Pineapple cake
Carrot cake with orange taste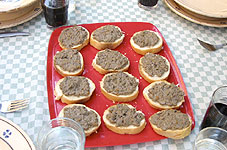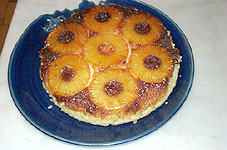 Week 4
Entrée 
Seasoned dry tomato
Porrata 
Artichoke carpaccio
Steamed moule

First dish
Green rice
Mushroom risotto
Tortiglioni with meat source
Polenta

Main dish and side dish
Ossobuco (stewed veal's leg meat)
Stewed chicken and vegetable with white source
Meat balls with mushroom
Inzimino

Dessert
Hazelnut cake
Crispy apple cake
Pear pie
Apples in cup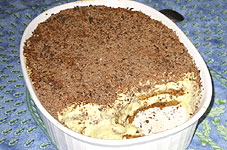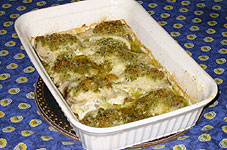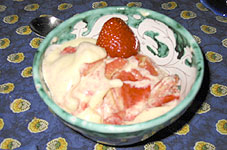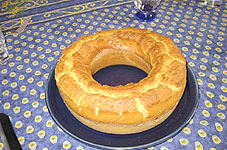 *Cooking Sample Pictures
Overview
Curriculum and Schedule
Sample Menu
Inquiry
Blog
See all posts of this course.
Gallery