NEWS and Blog
Jun. 01, 2012 | Posted in Jewelry, Top Stories | Tags:


Staff Blog≫

Jewelry Making Course in Accademia Riaci
Buon giorno!! Hello all!! This is staff of Accademia Riaci.
Today we would like to introduce one of the traditional technics, which is very unique in Florence for centuries.
The technic can be learned our Jewry Making course.
You might know Italian Jewelry makers, for example, "Bucellati" first, which is famous for the delicate and elegant Italian engraving.
Many people are fascinated by the lacy openwork and silky, soft-looking base metal.
Incisione (Florence engraving) lessons at Accademia Riaci is the first step for such a fine Italian chasing and metal carving.
Jewelry Making course for one academic year or one semester includes this Florence original technic for one semester period between October and March.
In the Incisione work, you engrave metal plate pushing the handle of burin, a specific graving tool for this technic.
Power controlling is hard. Imagine as if you were drawing a picture, this is totally different from engraving or shaving in stone setting method.
Needless to say, once you master this technic, your jewelry-making repertoire will have more possibilities, and if you are from other country outside Italy, you will become more marketable jeweler with such a rare skill.
Of course, besides Incisione, "Florence openwork", "stone setting", or other jewelry making skills can be learned.
In our next post, we will talk about "Florence openwork".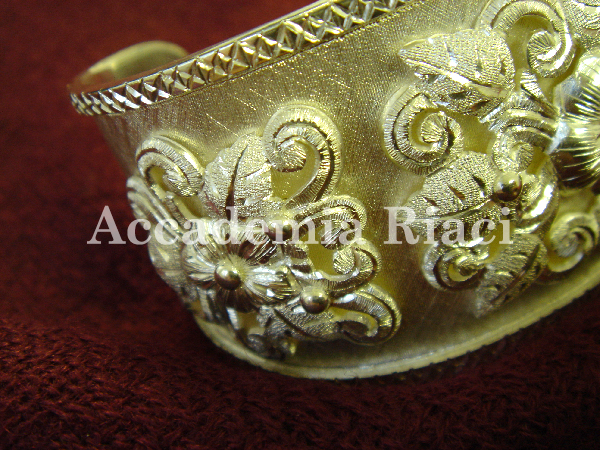 The traces of engraving reflect lights. This is a typical Italian luxurious art piece.
After our course, you can make such jewelries. So, why don't you try?