Accademia Riaci
Student Reports
Read all class reports from our students!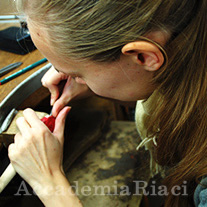 Reporter
S.K.
Nationality: Finland
Course: Jewelry Making
Program: 1year ATELIER COURSE
Period: Oct.14,2013 - June 6,2014
She completed her BA degree in Fine Arts in 2011. Having studied sculpture, photographing, stone cutting, lost wax casting,electroforming and contemporary jewellery, she decided to follow her interest and focus on more traditional goldsmithing techniques. She came to Florence, the most famous city of art and craftmanship in Italy, to study jewelry making and also attended to courses specialized in hand engraving and Florentine fret saw piercing with highly skilled rofessors.
Feb. 17, 2014 | Posted in Reports, Jewelry Making , Student Reporter | Tags:S.K., Jewelry MakingReporter: S.K. | Course: Jewelry Making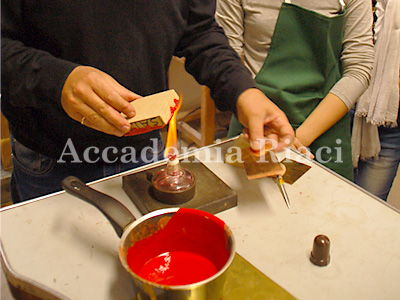 1. Heating a red wax with alcohol lamp to attach a sheet of copper on it to hold it while engraving.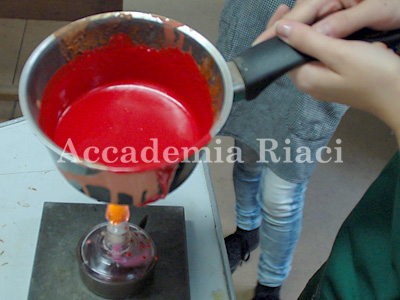 2. Heatig a red wax on an alcohol lamp to melt it.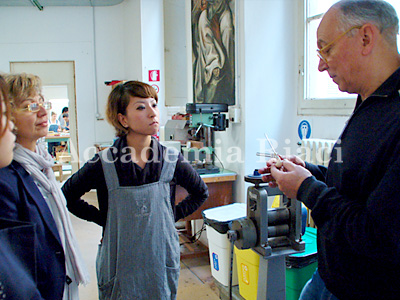 3. Teacher explaining to the class how to attach the burin blade to the wooden handle properly.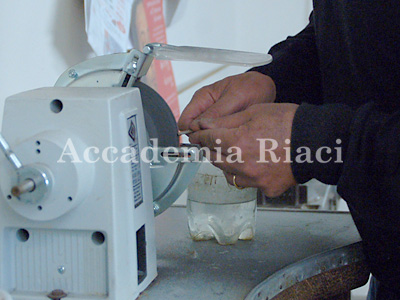 4. Teacher showing how to shape the burin blade with a mola.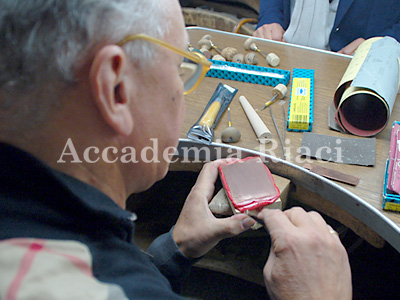 5. Preparing for engraving. Teacher showing how to pass lightly the copper sheet with emery paper before starting to engrave.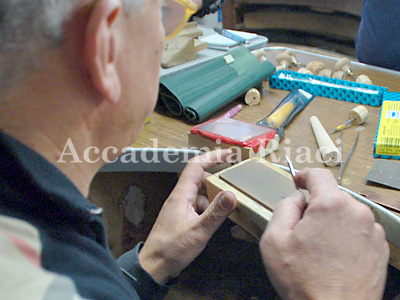 6. Teacher showing how to sharpen the burin in a 45 degrees with Arkansass stone.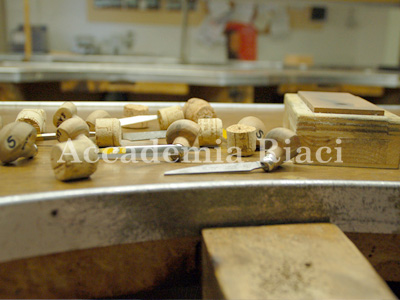 7. An Arkansass stone for sharpening burins, and a halfround, flat, knife shaped and striped burins, the blade has been protected with a cork while not using them.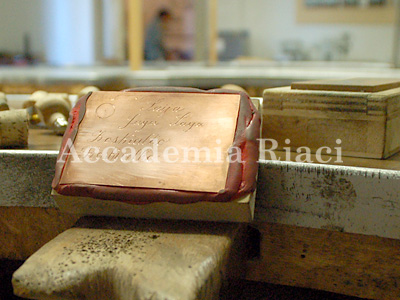 8. First writing exercises on a copper sheet using english letters.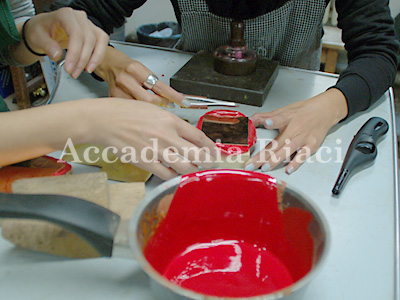 9. Students attaching the copper sheet to the base with red wax.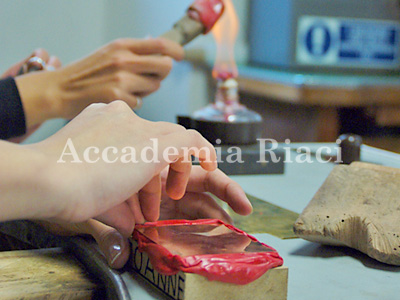 10. Different engraving bases for different objects. Backround student heating a base for a ring and in front student attaching a flat copper sheet to the base.

11. Closeup picture about a burin cutting the copper.Burin must be held firmly, and the thumb and index finger are guiding the blade.

12. The text is first written on a copper with a pencil, and then engraved with a burin following the pencil design.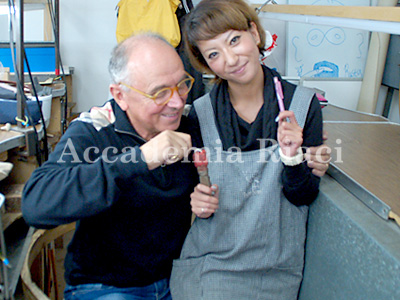 13. Teacher Marco and a student Aoi showing the engraving base for a ring.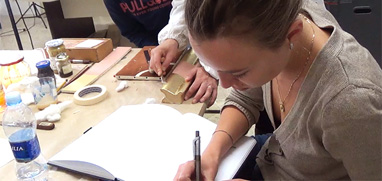 At Accademia Riaci, we are recruiting Course Reporters from our students. The students who are chosen to become Course Reporters are given 10 % of the tuition as their scholarship fee.
The Reporters who have submitted excellent reports will have his or her profile posted on our school website for the next 5 years as an alumnae and will be able to connect with their business chancesafter their graduation.