Up-to-date report from one of our students!
Aug. 20, 2014 | Posted in CourseShoe, Blog, LessonReport, Shoemaking | Tags: Shoe Making, Morita | Language:


Reporter: Morita | Course: Shoe Making Course
接着製法、グッドイヤーウエルト製法3 18.3.2014
・Once the external outsole stitching is completed, the groove is place back to the original position.
・外側の出し縫いが終わったら裏側の溝を元に戻していきます。(左・中・右)
・Once the shoe has been completed, a black cream is applied on its surface for the finishing (left photo).
・After removing the shoetree, students hammer nails to fix the heel, from the internal side (ccentral photo).
・Goodyear-style boots are completed (right photo).
・完成した靴は表面は黒いクリームを塗って仕上げていきます。(左)
・木型を抜いたら踵部分に内側から釘を打ちます。(中)
・グッドイヤーウエルト製法のブーツが完成です。(右)
・The facings for the Derby-style shoe are complete (Open-laced type of adhesive method. left photo).
・The creation of the paper pattern is a very important part of the process, and if there's something not clear students ask to the instructor (central photo).
・The facings for the Goodyear-style shoe are ready (right photo).
・接着製法の外羽完成です。(左)
・型紙は重要なので分からない部分は先生に聞きながら進めていきます。(中)
・グッドイヤーウエルト製法の外羽完成です。(右)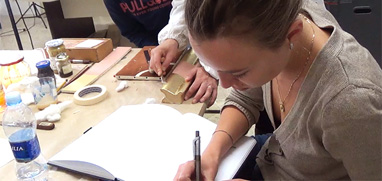 At Accademia Riaci, we are recruiting Course Reporters from our students. The students who are chosen to become Course Reporters are given 10 % of the tuition as their scholarship fee.
The Reporters who have submitted excellent reports will have his or her profile posted on our school website for the next 5 years as an alumnae and will be able to connect with their business chancesafter their graduation.