Up-to-date report from one of our students!
Jun. 30, 2014 | Posted in CourseShoe, Blog, LessonReport, Shoemaking | Tags: Shoe Making, Morita | Language:


Reporter: Morita | Course: Shoe Making Course
外羽接着・型紙裁断~仮靴
・After having cut the paper pattern off, we transfer it on the provisory felt and cut it again.
・It's important to check whether the felt has been cut following the pattern size and shape.
・Later, we attach each part and assemble them together with the sewing machine.
・型紙を切り出し後、型紙を仮靴用のフェルトに写し取り切り出しを行います。
・フェルトが型紙通りに切り出せているか、サイズに間違いは無いかを確認します。
・サイズ等に間違いが無いことを確認して各パーツを貼り付けミシンで縫い合わせます。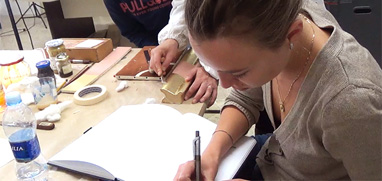 At Accademia Riaci, we are recruiting Course Reporters from our students. The students who are chosen to become Course Reporters are given 10 % of the tuition as their scholarship fee.
The Reporters who have submitted excellent reports will have his or her profile posted on our school website for the next 5 years as an alumnae and will be able to connect with their business chancesafter their graduation.