Up-to-date report from one of our students!
Reporter
Danielle LEGER
Nationality: Canada
Course: Bag Making
Program: One-Year Course
Period: Sep. 4, 2017 - Apr. 27, 2018
A small town girl from Fredericton, New Brunswick, Canada, Danielle Leger has always had big dreams. After graduating in Montreal at LaSalle College in Fashion Marketing, Danielle was ready for the next step to pursue her career dreams as a businesswoman and designer. With the intention of one day starting her own bag and accessories company, Danielle's next step was to come to a place that is World renowned for its high quality craftsmanship and fashion sense. She found everything she was looking for at Accademia Riaci in Florence, Italy, enrolling in a one year program in Bag Making & Design. Danielle loves challenging herself in the creative arts and bag making, and is tremendously happy to be at this school to do so.

カナダのニューブランズウィック州フレデリクトン出身の小さな街の女の子、Danielle Legerには大きな夢がありました。モントリオールにあるラサール・カレッジでファッション・マーケティングを学んだ後、Danielleは彼女のビジネスウーマンとデザイナーとしてのキャリアと夢に向かって次のステップに進みます。いつの日か自分のバッグ・アクセサリー会社をスタートさせるため、Danielleの次のステップはその質の高い職人魂とファッションセンスで世界的に有名な場所に来る事でした。彼女はイタリア、フィレンツェのアカデミアリアチのカバン制作・デザインワンイヤーコースに求めていたもの全てを見つけました。Danielleは制作活動やバッグ制作で自身を試すことが好きなので、この学校でそれができる事が本当にハッピーです。
Feb. 09, 2018 | Posted in Top Stories, Bag Making/Design , Student Reports | Tags:Danielle LEGER, Bag Making/Design | Language:


Reporter: Danielle LEGER | Course: Bag Making/Design
Monday

Today in Bag Making, I worked on my shoulder bag/clutch. I specifically focused on the bow for my bag, which included doing a lot of hand sewing. I particularly love sewing the satin by hand!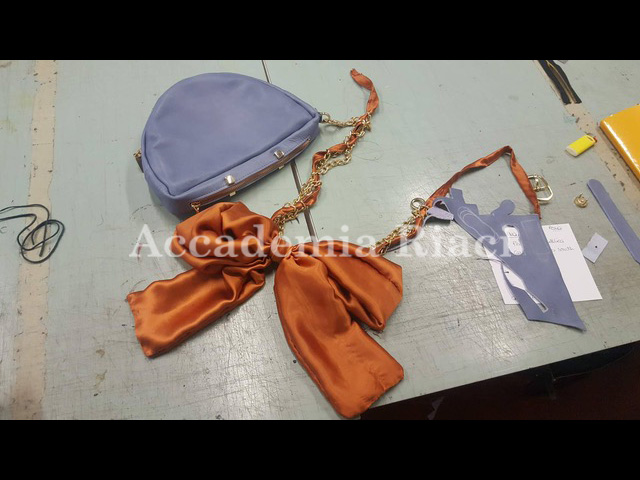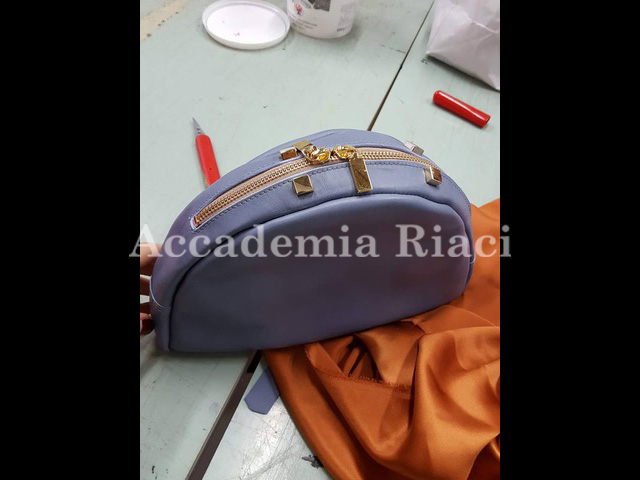 Tuesday

Today in Bag Design in the morning, Veronica said that my drawings have improved. I drew the entire class, and she gave me tips on how I can improve. In the afternoon for independent study, I continued to do hand stitching for the bow.
Wednesday

Today in Bag Making, I finished the hand stitching for the bow, and added on a magnet to the back of the bow so that it can be attached to the bag when being used as a clutch. After class, I went to Senatori to get more supplies. Afterwards, I returned to school and had my last art class in the Color Theory section.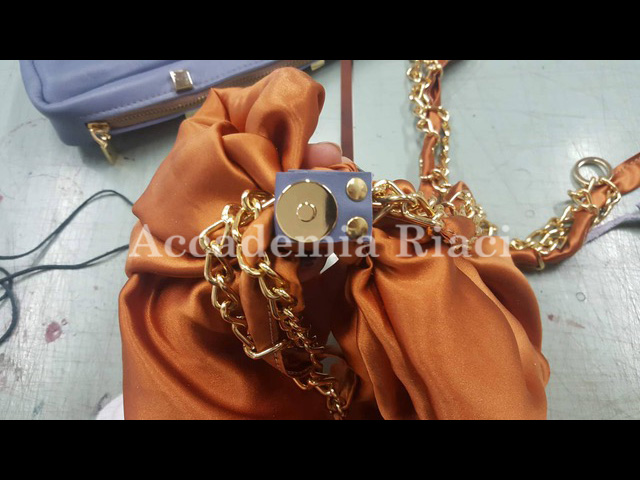 Thursday

Today we had hand stitching all day! I continued to work on my red shoulder bag and made good progress! I brought it home with me to work on during the break, and it will be completed in the next class with Niccolo's help.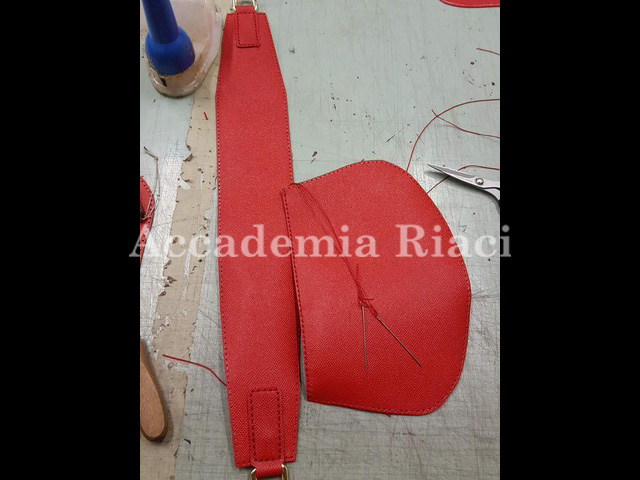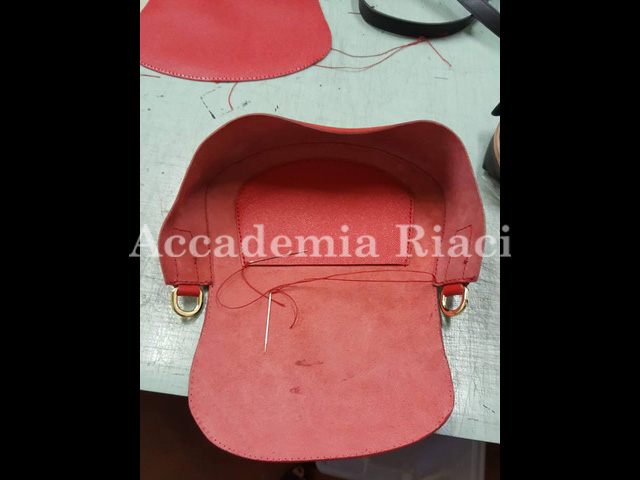 Friday

For independent study today, I focused on Design in the morning and Bag Making in the afternoon. I got in the zone to design by putting on music, and successfully drew out some bags. Then after lunch, I worked on the shoulder strap for my bag and finished some small pieces. Here is a photo of me with two girls who are sadly leaving this weekend to go back home! I had worked with Aaliyah and Harriet for around a month, so it was a sad "Goodbye" but a sweet "See you later!"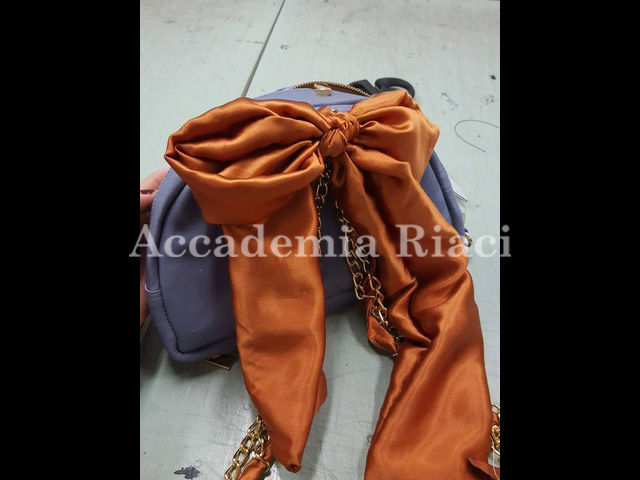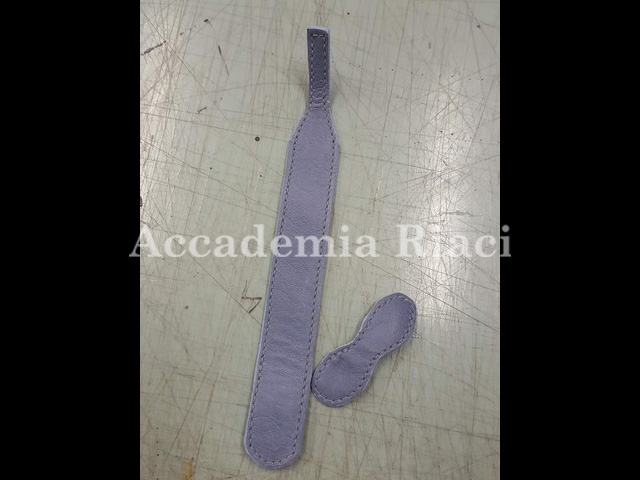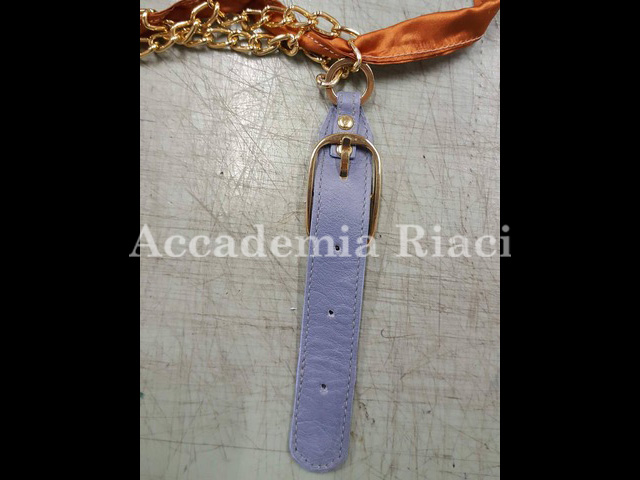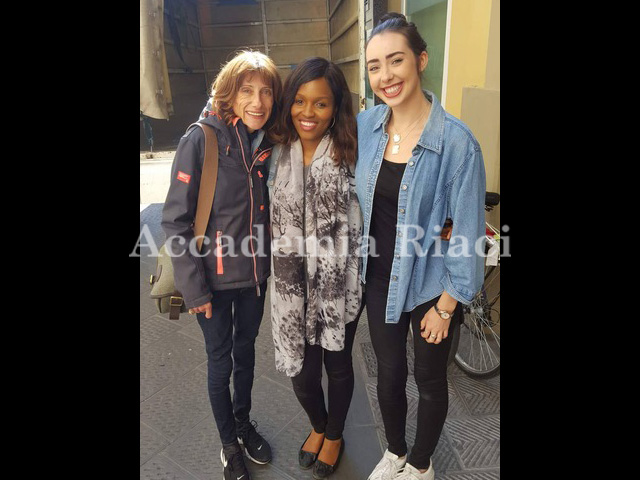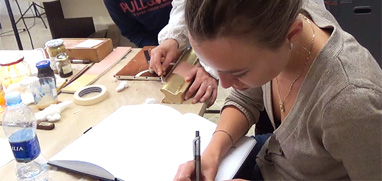 At Accademia Riaci, we are recruiting Course Reporters from our students. The students who are chosen to become Course Reporters are given 10 % of the tuition as their scholarship fee.
The Reporters who have submitted excellent reports will have his or her profile posted on our school website for the next 5 years as an alumnae and will be able to connect with their business chancesafter their graduation.