Up-to-date report from one of our students!
Reporter
Danielle LEGER
Nationality: Canada
Course: Bag Making
Program: One-Year Course
Period: Sep. 4, 2017 - Apr. 27, 2018
A small town girl from Fredericton, New Brunswick, Canada, Danielle Leger has always had big dreams. After graduating in Montreal at LaSalle College in Fashion Marketing, Danielle was ready for the next step to pursue her career dreams as a businesswoman and designer. With the intention of one day starting her own bag and accessories company, Danielle's next step was to come to a place that is World renowned for its high quality craftsmanship and fashion sense. She found everything she was looking for at Accademia Riaci in Florence, Italy, enrolling in a one year program in Bag Making & Design. Danielle loves challenging herself in the creative arts and bag making, and is tremendously happy to be at this school to do so.

カナダのニューブランズウィック州フレデリクトン出身の小さな街の女の子、Danielle Legerには大きな夢がありました。モントリオールにあるラサール・カレッジでファッション・マーケティングを学んだ後、Danielleは彼女のビジネスウーマンとデザイナーとしてのキャリアと夢に向かって次のステップに進みます。いつの日か自分のバッグ・アクセサリー会社をスタートさせるため、Danielleの次のステップはその質の高い職人魂とファッションセンスで世界的に有名な場所に来る事でした。彼女はイタリア、フィレンツェのアカデミアリアチのカバン制作・デザインワンイヤーコースに求めていたもの全てを見つけました。Danielleは制作活動やバッグ制作で自身を試すことが好きなので、この学校でそれができる事が本当にハッピーです。
Nov. 24, 2017 | Posted in Top Stories, Bag Making/Design , Student Reports | Tags:Danielle LEGER, Bag Making/Design | Language:



Reporter: Danielle LEGER | Course: Bag Making/Design
Monday

This week, I continued to work on my backpack! I cut and glued on the magnet for the exterior flap that closes the bag. I then made paper shapes for the flap to create the desired sizing, and then cut the shapes into the leather and lining. I also made a cut for a zipper to go on the flap for an interior pocket.

月曜日
今週もリュックづくりを続けます。バッグを閉めるための外側のふたに、マグネットを貼り付けます。その後、作りたい大きさにするためにバッグのふたの型紙を切って、その形にレザーと裏地を切ります。ふたの内ポケットにつけるジッパーの型紙も作ります。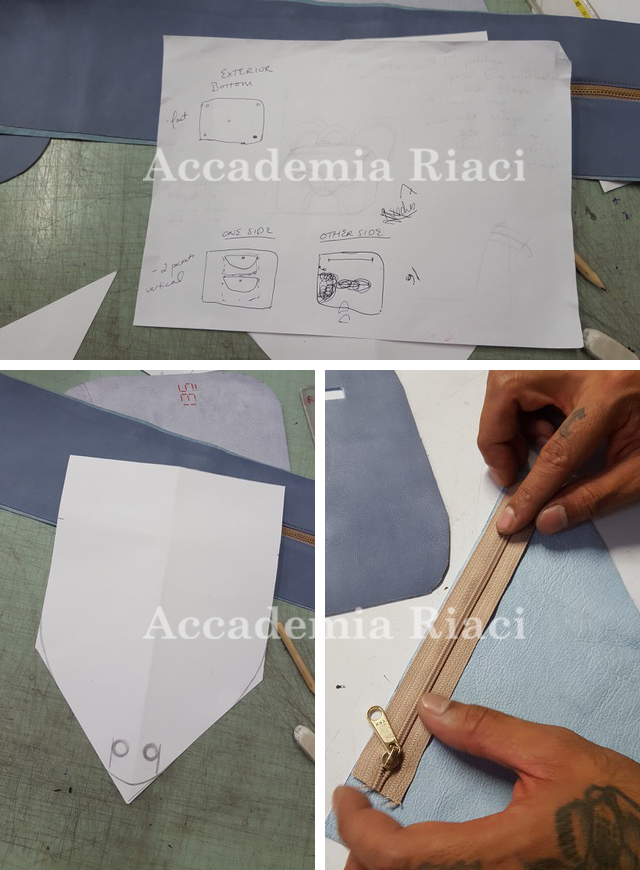 Tuesday

Today, I worked on the design and details of my future brand. I decided on the target market, the price points, the style of the brand, and the competitors of the brand. I researched in a magazine called Zoom On Fashion Trends S/S18 for mood board inspiration. For lunch, I went to a lovely bar called La Terrazza della Rinascente Firenze, and found a heart shape in the clouds, as seen in my picture! After lunch, I continued to work on my designs, and did more research in the magazines Zoom on Fashion Trends. This time, I looked at seasons S/S19 and A/W19, observing color and style trends.

火曜日
今日は、将来の私のブランドに向けてのデザインと詳細についての研究をしました。ターゲットとなるマーケットや価格、ブランドのスタイル、そして競争者を決めました。
Zoom On Fashion Trends S/S18という冊子を使ってムードボードのインスピレーションのためのリサーチをしました。お昼はフィレンツェのリナッシェンテにあるTerrazzaという可愛いバーに行って、写真にあるように雲の中にハートを見つけました!ランチの後は、デザインの研究を続けて、Zoom on Fashion Trends でさらなるリサーチをしました。このときは、S/S19と A/W19シーズンの色とスタイルのトレンドを考察しました。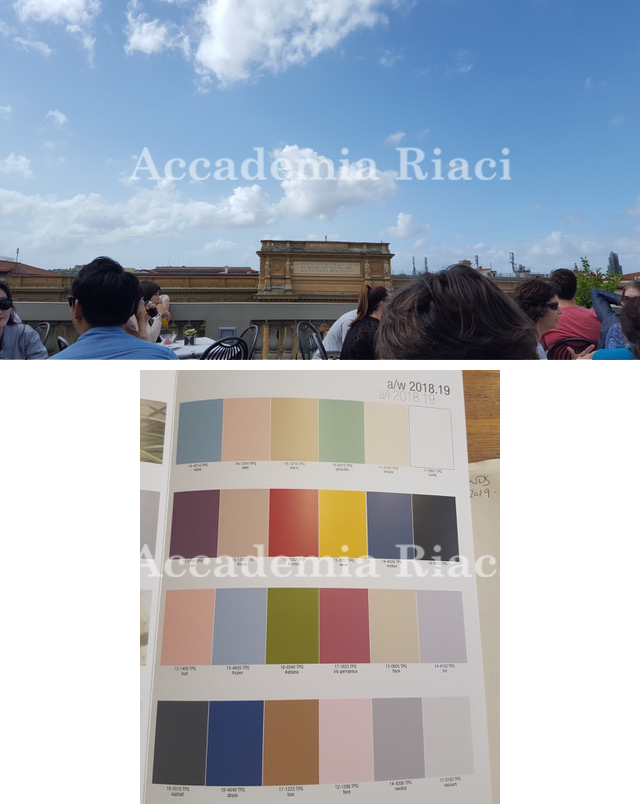 Wednesday

Today I continued to work on my backpack. I cut more pieces of leather and lining, and sewed the leather and lining pieces together. I then painted the edges a light blue color, in order to match the pastel blue color of the backpacks exterior and the light blue lining. Later that day, I had a wonderful art class and learned some history on Michelangelo, Leonardo Da Vinci, and Raffaello Sanzio.

水曜日
今日は引き続きリュックの制作をしました。さらに革と裏地を切って、それらのピースを互いに縫い合わせました。リュックの外側のパステルブルーと明るい青の裏地に合うように、切ったピースの縁を明るい青で塗りました。その後素晴らしいアートクラスの授業を受けて、ミケランジェロ、レオナルド・ダ・ヴィンチ、ラッファエッロ・サンティの歴史について学びました。
Thursday

Today I worked on stitching some more lining onto the leather. I also made the handle and stitched it onto the bag, as well as stitched other parts of the bag together. Furthermore, my classmates and I took many selfies today, as two of them had their last day today and will leave Florence to go back home this weekend.

木曜日
今日はさらに裏地を革に縫い付ける作業をしました。さらにバッグのパーツを互いに縫い合わせたのに加えて、持ち手を作り、それをバッグに縫い付けました。
そして、今日は週末にフィレンツェを去って家に帰ってしまう2人のクラスメイトの最終日でもあったため、セルフィーを沢山撮りました。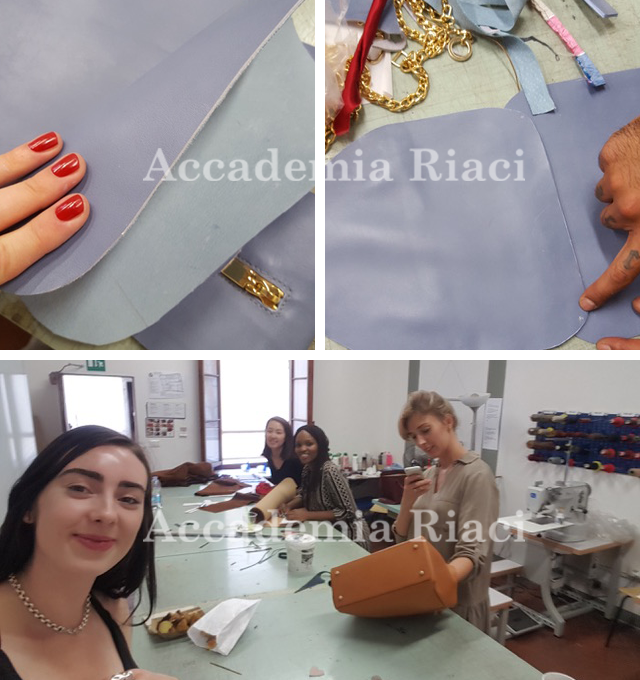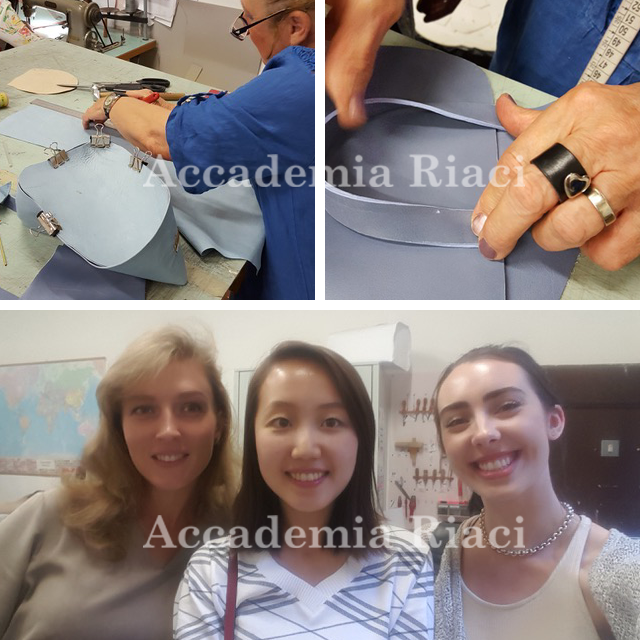 Friday

The school was closed today and so I was unable to do my independent studies in the school. Luckily, there are many fantastic cafes and restaurants in Florence! I went to the Central Market to get some work done, as well as have a cappuccino and eat!

金曜日
今日は学校が閉まっていたので、実習を行う事ができませんでした。でもラッキーな事にフィレンツェには素敵なカフェやレストランがあります!中央市場で用事を済ませた後は、カプチーノを飲んで軽食をとりました!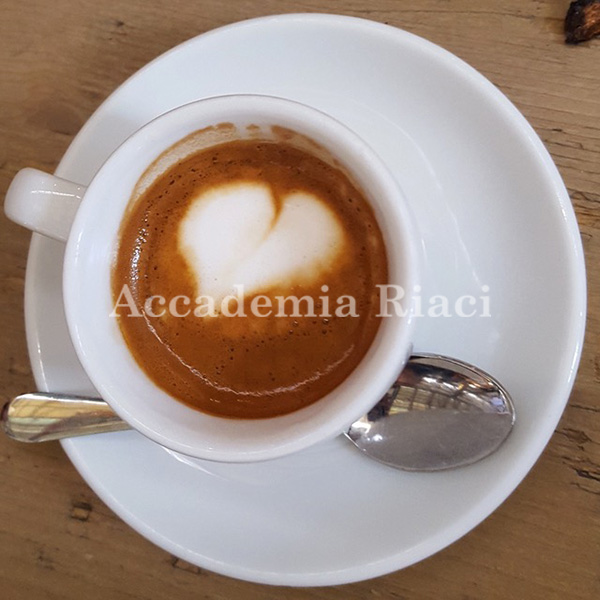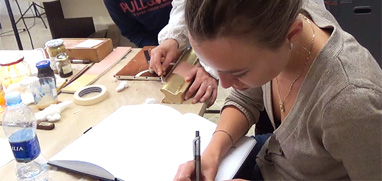 At Accademia Riaci, we are recruiting Course Reporters from our students. The students who are chosen to become Course Reporters are given 10 % of the tuition as their scholarship fee.
The Reporters who have submitted excellent reports will have his or her profile posted on our school website for the next 5 years as an alumnae and will be able to connect with their business chancesafter their graduation.