Up-to-date report from one of our students!
Reporter
Danielle LEGER
Nationality: Canada
Course: Bag Making
Program: One-Year Course
Period: Sep. 4, 2017 - Apr. 27, 2018
A small town girl from Fredericton, New Brunswick, Canada, Danielle Leger has always had big dreams. After graduating in Montreal at LaSalle College in Fashion Marketing, Danielle was ready for the next step to pursue her career dreams as a businesswoman and designer. With the intention of one day starting her own bag and accessories company, Danielle's next step was to come to a place that is World renowned for its high quality craftsmanship and fashion sense. She found everything she was looking for at Accademia Riaci in Florence, Italy, enrolling in a one year program in Bag Making & Design. Danielle loves challenging herself in the creative arts and bag making, and is tremendously happy to be at this school to do so.

カナダのニューブランズウィック州フレデリクトン出身の小さな街の女の子、Danielle Legerには大きな夢がありました。モントリオールにあるラサール・カレッジでファッション・マーケティングを学んだ後、Danielleは彼女のビジネスウーマンとデザイナーとしてのキャリアと夢に向かって次のステップに進みます。いつの日か自分のバッグ・アクセサリー会社をスタートさせるため、Danielleの次のステップはその質の高い職人魂とファッションセンスで世界的に有名な場所に来る事でした。彼女はイタリア、フィレンツェのアカデミアリアチのカバン制作・デザインワンイヤーコースに求めていたもの全てを見つけました。Danielleは制作活動やバッグ制作で自身を試すことが好きなので、この学校でそれができる事が本当にハッピーです。
Oct. 20, 2017 | Posted in Top Stories, Bag Making/Design , Student Reports | Tags:Danielle LEGER, Bag Making/Design | Language:



Reporter: Danielle LEGER | Course: Bag Making/Design
Monday

Today I practiced stitching on the sewing machine for the first time in years. I have only stitched once before in my life, so I needed to practice and get comfortable with the machine. Here is a photo of an orange piece of leather, demonstrating my stitching going back and forth for practice.

Then, I started working on a classic "beauty bag". I practiced cutting with the knife for the first time to add on pieces to my beauty bag, such as several stars, hearts, and the ancient symbol of the fleur de lis, which is the crest of the city of Florence, Italy. The photo below shows me using the knife on pale pink leather to cut the fleur de lis.

For lunch, two classmates and I grabbed pizza down the street. It was delicious, and our bellies were quite full in this photo below. The group of us are quite the diverse team; the girl on the left, Diana, is from Brazil; the girl on the right, Ola, is from Ukraine; and I, myself, am from Canada. We had great conversation and connected very well, and were able to tell stories of the different places we come from, which made the lunch fun and captivating.

On the first day after school, my classmates and I took a trip to Alpel, a leather goods store in Florence, to buy leather for our bags. There were many leathers to choose from, and we spent a couple of hours in the store before finally picking one each.

月曜日
今日は何年かぶりにミシンで縫う練習をしました。人生で一度しかミシンを使って塗った事がなかったので、もっと練習してミシンに慣れなくてはなりません。写真に写っているレザーは、縫い目の練習をしたものです。
次に、一般的な化粧ポーチに取り掛かります。初めてナイフを使って化粧ポーチに付ける星やハート、イタリアフィレンツェの紋であるフルール・ド・リスの古いシンボルを切る練習をしました。
写真には、ナイフを使って淡いピンクの革をフルール・ド・リスの形に切っている私が写っています。
昼食ではクラスメイトふたりと道を下ったところでピザを食べました。すごく美味しくて、この写真を撮ったときはみんなお腹がいっぱいでした。私たちはそれぞれ全く違います。左に写っているDianaはブラジル人、右に移っているOlaはウクライナ人、そして私はカナダ人です。私たちは楽しい会話をして、仲良くなりました。それぞれが来た異なる場所について話して、とても楽しく魅力的な昼食でした。
授業の初めの日、授業の後仲間たちとフィレンツェのレザー商品のお店であるアルペルに授業で使うレザーを買いに行きました。レザーの種類が多くて、2時間もかけてやっと選択できました。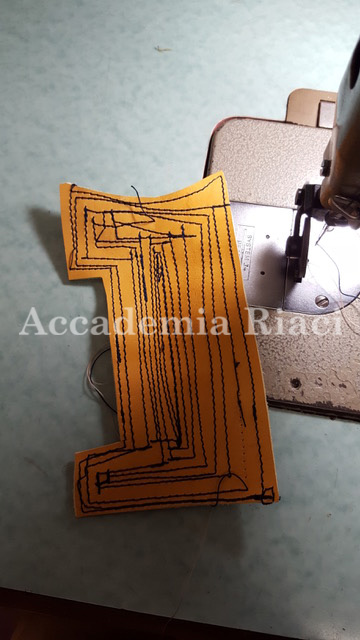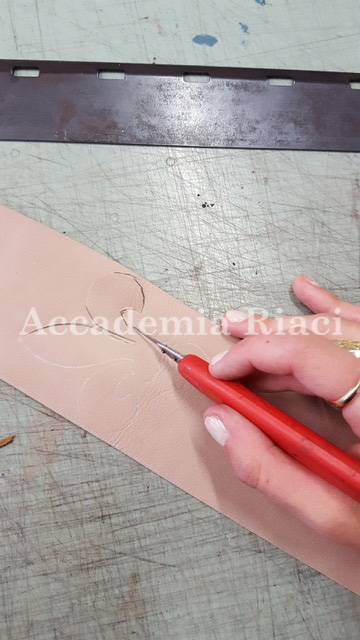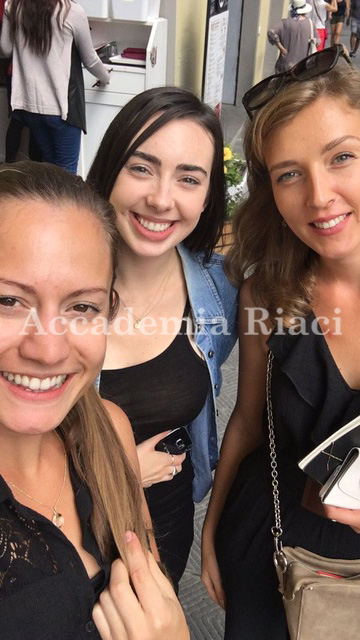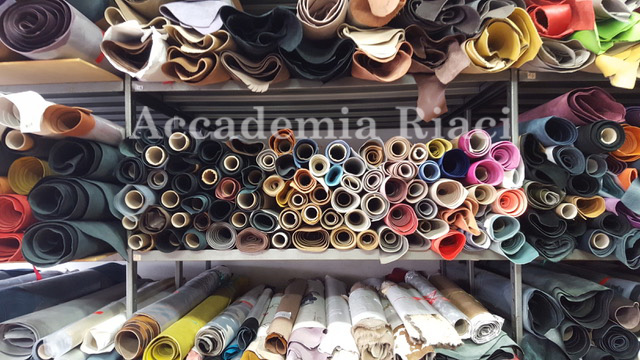 Tuesday

On Tuesday, I glued and sewed the hearts, stars, and fleur de lis that I had cut the day before, onto my beauty bag. I also sewed the beige zipper onto the bag. Here below is a photo of the process. It took a lot of time for me to cut each shape, as I am an amateur cutter!

My lovely teacher, Julianna, had to use this machine to press down the edges of the leather to make it thinner, so that it would be easier to sew the edges together in the end.

火曜日
火曜日、前日に切った星、ハート、フルール・ド・リスを化粧ポーチに貼り付けて縫いました。あと、ベージュのジッパーも縫い付けました。写真はポーチが完成するまでの行程です。私がアマチュアカッターなので型を切るのにすごく時間がかかりました!
私の素敵な先生、ジュリアナは縁を薄くするためにこの機械を使って革を圧していました。そうする事によって最後に縁を合わせて縫うのが簡単になります。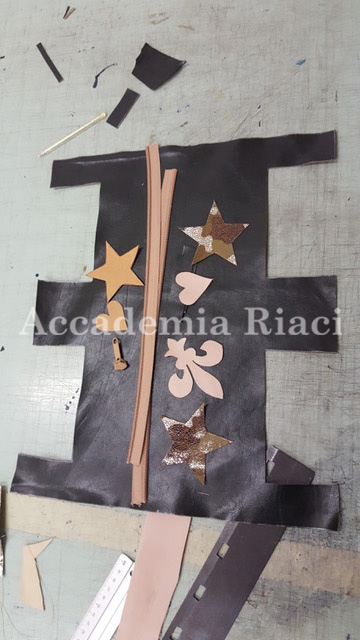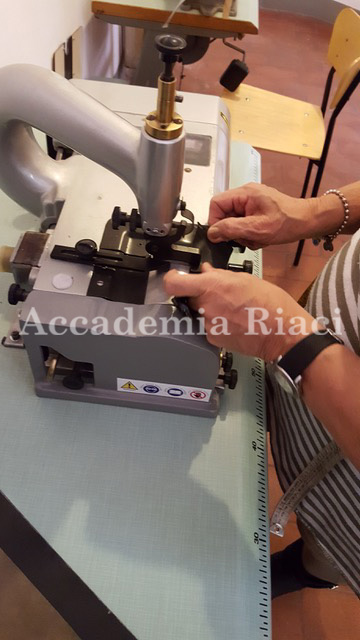 Wednesday

Today was my first class of Bag Design. I have been creating flat drawings of bags for the past 4 years – so today I finally learned how to draw bags in 3D. I designed 4 bags in detail including the backpack that I will create in the Bag Making class for my next project after the beauty bag is finished. I also looked through magazines and researched bag details to further improve my eye for design.

Later that day, in Bag Making class for independent study, I finished glueing and sewing shapes onto my beauty bag. I then finished the bag with final touches such as hammering the sides of the bag into place to create more of a structured look.

That day, I also met a new friend, named Ganja. This cute dog is owned by the assistant/translator, who brought his dog into class that day. I was lucky to have this dog at my feet while I was sewing for hours!

水曜日
今日はバッグデザインの授業初日でした。これまでは4年間に渡って平面のバッグ デザインをしていたので、今日は初めて立体のバックデザインを学びます。バッグ制作コースで化粧ポーチが終わったあとに作りたいリュックを含め、4つのバッグを細かくデザインしました。さらに、私のデザイナーとしての目を養うため、雑誌を見ながらバッグのディティールについてリサーチをしました。
その後のバッグ制作の実習時間には型を化粧ポーチに貼り付け、縫い合わせました。形がもっとかっちりするようにハンマーで縁を叩いたり、最終的な調整をしてバッグは完成しました。
同じ日、Ganjaという新しい友だちにも出会いました。その可愛い犬はアシスタント兼通訳が飼っている犬で、その日は教室に連れてこられていたのでした。何時間も縫い物をしている間、足元にこの犬が居るのはラッキーでした。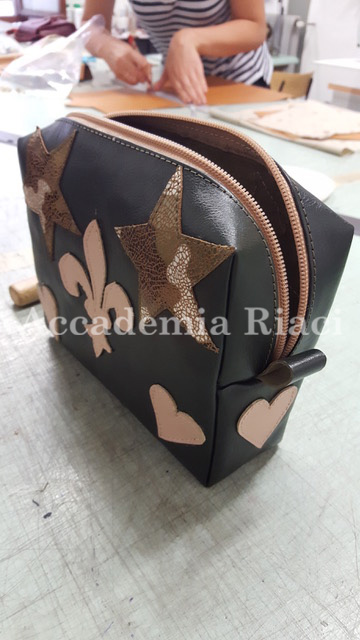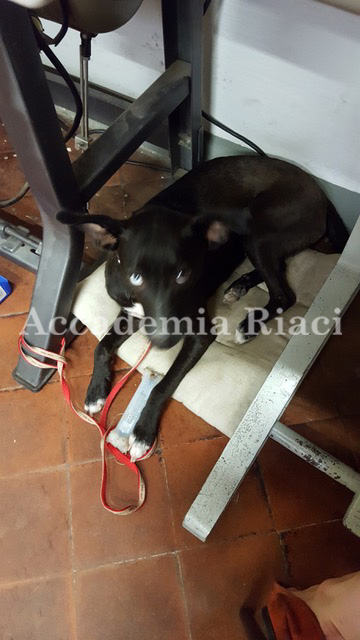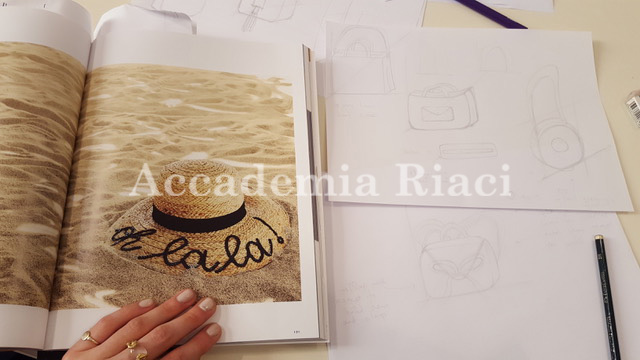 Thursday

Today I started my first bag of the collection that I will be working on this semester. I am creating a backpack with pastel blue calf leather. I made measurements for the desired size of my backpack, and made paper shapes for the outline of the bag. Using the paper shapes, I then cut the blue leather and zipper. I then painted the interior of the zipper part a light blue, coated twice for a more finished look.

As an amateur seamstress, I was very happy with my finished sewing job putting the zipper and leather together.

After school, I went to Valli Tessuti to buy some more fabric for the backpack that I am creating. Here is a photo of a beautiful orange satin that I bought for details on my backpack.

Somehow, I managed to wear the perfect outfit today, as my dress matched the Valli Tessuti shopping bag that I received after my purchase! I was delighted about this and had to take a photo.

Later that evening, my roommate, Pooja, and I, went into the center to see the Lantern Festival in Florence. It was phenomenal to see this, as it is an ancient tradition that happens every year, and has been taking place for centuries.

木曜日
今日はこの学期中に制作するコレクションの最初のバッグを作り始めました。パステルブルーの子牛の革でリュックを作っています。作りたいリュックの寸法を決め、輪郭を型紙で作ります。次にその型紙を使って、革とジッパーを切ります。そして、ジッパーの内側を明るい青で塗り、もっと洗練された感じになるように2回塗りました。
アマチュアのお針子としては、ジッパーとレザーを縫い合わせたもののできにとても満足しました。

学校の後は作っているリュックのための生地をValli Tessutiに買いに行きました。写真はリュックのために買ったオレンジのサテン生地です。
そしてどういうわけか、今日はパーフェクトな格好をしていたみたいです。買い物の後に貰ったValli Tessutiのショッピングバッグと私の服がピッタリ! 嬉しくて写真を撮らずにはいられませんでした。

夕方はルームメイトのPoojaと一緒に、中心街へフィレンツェのランタンフェスティヴァルを観に行きました。何世紀にも渡って開催されていて、毎年続いているこの古い伝統を観るのは凄い事です。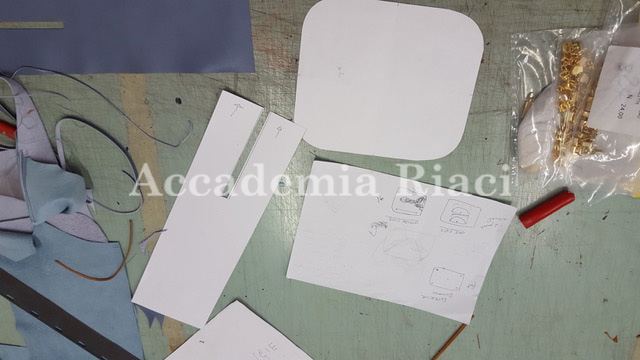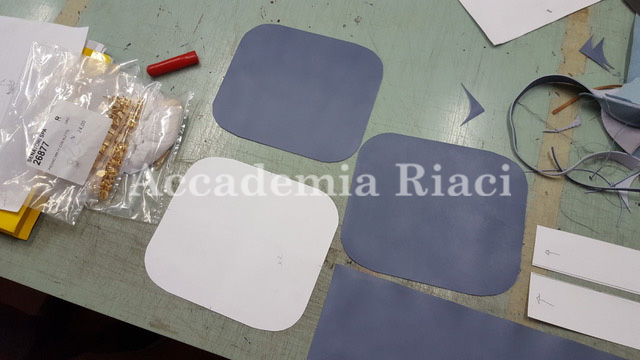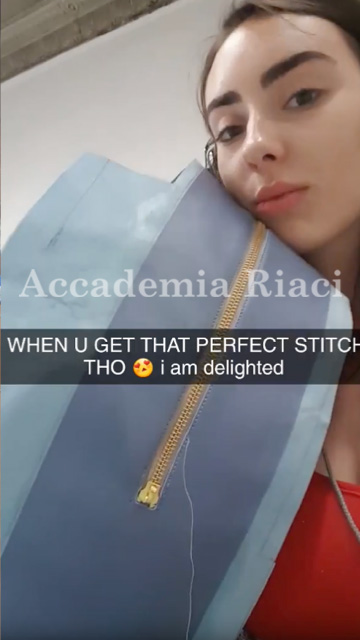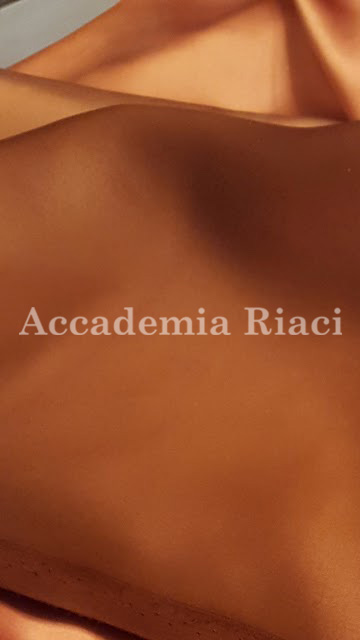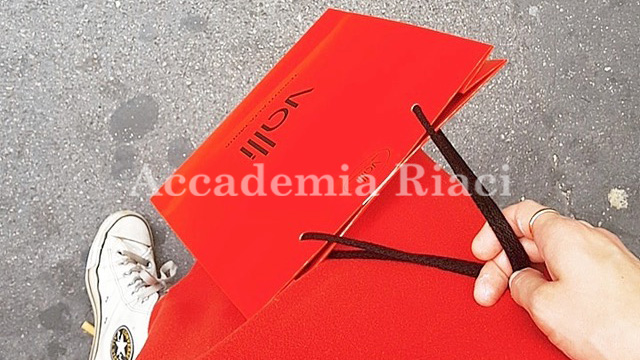 Friday

Today, I had Independent Study in the morning and afternoon, and I worked by myself on Bag Design and Making. It was a lovely time to continue practicing details, and research more ideas.

In the afternoon, I went with some classmates for the weekly Art Visit. Today, our Art Visit included a tour through the Camminata Medicea. It was a beautiful day for a walk through the city.

Later that afternoon, my classmate Yuki, and I, went to Fiorini D'Oro for lunch. This is a photo of our wonderful dessert, and of course, I had to get an espresso. Having an espresso after lunch is a classic Italian thing to do, and an absolute must for anyone who loves coffee!

金曜日
今日は午前と午後に実習の時間があるので、ひとりでバッグデザインと制作を進めます。細かい所を練習したり、さらなるアイディアをリサーチする一時はとても良い時間でした。
午後はクラスメイト数人と週一回のアートヴィジットに行きました。その中にはCamminata Mediceaを通るツアーも含まれていました。街を歩くにはとても良い日でした。
その後、私とクラスメイトのYukiはFiorini D'oroにランチに行きました。これは私達が頼んだ素晴らしいデザートの写真で、もちろんエスプレッソも飲みました。ランチの後にエスプレッソを飲むのはまさにイタリア的です。コーヒーが好きな人は絶対にやらなくちゃ!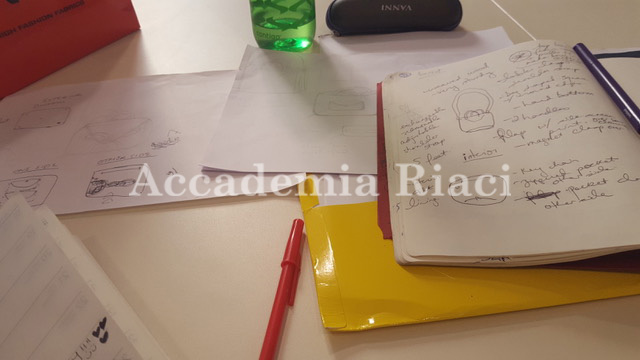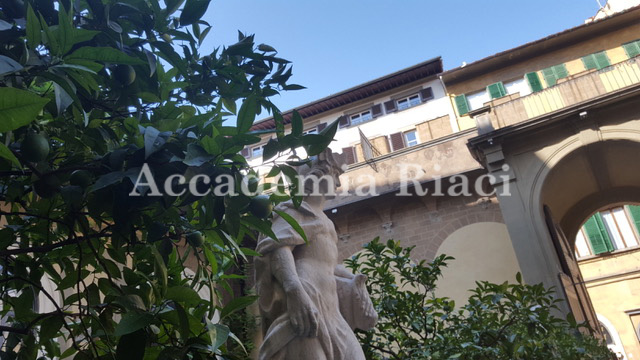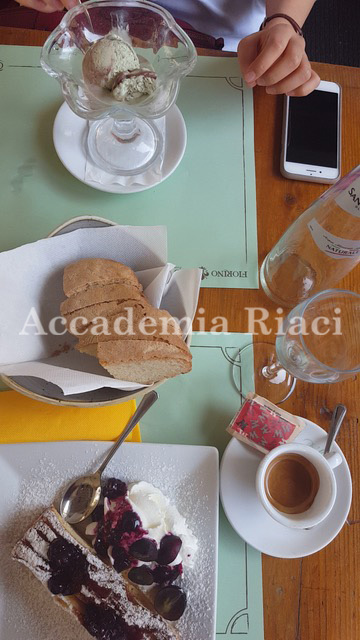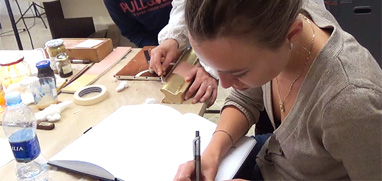 At Accademia Riaci, we are recruiting Course Reporters from our students. The students who are chosen to become Course Reporters are given 10 % of the tuition as their scholarship fee.
The Reporters who have submitted excellent reports will have his or her profile posted on our school website for the next 5 years as an alumnae and will be able to connect with their business chancesafter their graduation.