Bolsa de estudos
Bolsa de estudos
Students' Reporter System
Bolsa de Estudo
Atualmente não existem fundos governamentais nem doações disponíveis para assistência financeira.
Contudo, os alunos receberam consistentemente assistência financeira de empresas privadas de crédito educacional. Você também pode se inscrever à bolsa de estudo da escola.
Bolsa de Estudo da Accademia Riaci
Alunos de todas as partes do mundo podem solicitar a bolsa de estudo. Devem preencher os requisitos necessários para receber a cobertura total da bolsa ou parte dela. Para se candidatar, envie os seguintes documentos ao Escritório de informação ou ao mais próximo ponto de informação.
Documentos obrigatórios
– Ficha de Inscrição para Bolsa De Estudo Accademia Riaci (PDF)
– 1-2 páginas de uma carta de motivação, apresentação (em Italiano ou Inglês)
– Portfólio com 12 projetos (preferencialmente em CD-ROM)* caso não tenha exporiência na área em
que solicita a bolsa de estudo, não necessita enviar portfólio,
– Lista descritiva de cada projeto, trabalho presente no portfólio com detalhes de número, tamanho, e data de conclusão.
Documentos favorecidos
-2-3 cartas de recomendação de professores de sua faculdade, suporvisores de trabalho, ou outros com
conhecimento em estilo artístico.
**Você DEVE indicar o curso que pretende ingressar. Caso o curso não esteja escrito, indicado, não poderemos enviar seus documentos à comissão de seleção das bolsas de estudo.
Prazos
Enviar documentes com 3 meses prévios ao inicio do curso.
* O numero de bolsas é limitado. Por favor envie os documentos o mais rápido possível.
Students' Reporter System
At Accademia Riaci, we are recruiting Students' Reporters from our students.
The students who are chosen to become Students' Reporters are given 10 % of the tuition as their scholarship fee. The Reporters who have submitted excellent reports will have his or her profile posted on our school website for the next 5 years as an alumnae and will be able to connect with their business chances after their graduation.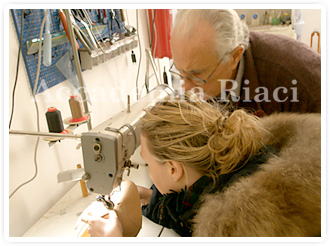 Qualification requirements
Prospective students of Accademia Riaci
Number of Recruitment
2 students (max.) for each course for each major in one-year course (September applicants) and for each major in the summer course (12 week course or 8 week course or 4 week course applicants)
Scholarship fee
10 % of the student's tuition. By submitting of weekly reports, and those who excelled, he or she will be given scholarship for Internship program after they finish their course.
Report content
Every week, you must submit a report including a photo and an article on that week's lesson.


Explanation of the technique learned, introduction of materials and tools used, photos of your classes (your work and your classmate's works, if persons were allowed, persons photographed in natural light.)
On the city, on study abroad living, on roommate, how you spend your days off [about 10 or more photos]

10 photos (or more) per week with brief explanation of the photo. (2-5 lines more or less.)
Submit the report by Friday at 17:00 with original photo data.

Each week's photo should include:

2 or more photos of your artwork
2 or more photos of you with your teacher, you with your classmates, you and your classmates all together
2 or more photos of the class during the lessons (while you and the others are studying)
2 or more photos of your living in Florence, such as your accommodation, places you visit in Florence
Other photos (such as school staff, etc.)

About the photos:

All the photos must be on focus
People in the photo must show the face or profile, and not only backs
The copyright of the photos belongs to the school. Your name and profile photo will be shown on our website.

Language must be in English and your native language.
Submit the photos and your article by digital data every Friday.
During school holidays, you will report on how you spent time.
Those who performed excellently as a Reporter will be given Reporter Scholarship and have 10 % of the tuition of following year's Master course or the Internship program.
Those who were a successful Reporter for 2 years, will be given an opportunity to take an exam to become a lesson assistant for Accademia Riaci.
Application Method
Accademia Riaci Application Form- downloadable from the Scholarship page of our school homepage.
http://www.accademiariaci.info/images/download/scholarship_reporter.pdf
*Please write the name of the course you wish to enroll, and check if you apply for becoming a Students' Reporter. It may not be considered without the name of the course.
Essay: Theme: "How I would like to expand my own business in the future"
A4 size1-2 pages, in Italian or English 200~300 words, or 400 words in Japanese.
Portfolio with 12 of your works (It must be attached to mail by PDF file.
*It is not necessary if you have no experience in the field in which you would like to study.
The contents of the portfolio must be listed: the number, the size, the medium and the finished date of the work)
Explanation of each work in your portfolio about the making and characteristics of the works.
Application deadline: Three months before the start of the course. (It is reviewed by first come first served basis) among the Scholarship applicants, 2 persons (max.) for each course will be selected.
Bolsa de estudos
Students' Reporter System