NEWS and Blog
Hello all! This is Accademia Riaci Tokyo staff.
This time we proudly report culinary art lesson by Prof. Francesco Coniglio. He is the director professor of Culinary Art Course for Professionals, and also he is the professor of Italian federal hotel and catering academy, "Alberghiero". He is extremely popular as a restaurant advisor, and works as master chef for private parties for celebrities.
Although I am a beginner for cooking, mouth-watering menu drove me to join this lesson. I was also very curious to take a look at such a famous master chef.
Menu of the day:
Fresh macaroni pasta ragu sauce
Shrimp and zucchini maltagliati neri (squid ink black pasta)
Almond powder baked cake with apple compote
Just looking at the menu, I feel already hungry. This lesson was for Italian home cooking, however, the new trend is innovated in the combination of macaroni from south Italy and ragu sauce from north Italy, and also in the combo of almond powder cake in south Italy and apple compote from north Italy.
There are many things to prepare to make those three recipes.
For example,
・Ragu sauce and meatballs in the sauce
・Fresh pasta for macaroni
・Sepia ink fresh pasta for maltagliati neri
・Sauce for maltagliati neri
・Dessert
All those processes were done almost simultaneously under the instructions from professor, and I would like pick up to write about macaroni pasta ragu souce out of those recipes.
~Preparation of ragu sauce~
Stir-fri onion and garlic slowly, then sauté pork rib chop and fresh hot pepper. During this process. saturate dried porcini mushroom in water. Once pork is cooked, pour red wine and boil down. Squeeze extra moisture out of porcini mushroom and cut into tiny pieces to add the pork. Puree whole tomato and add warm water, then cook with pork for one hour at low heat.
The Prof. Coniglio gave us detailed advices how to stir-fri onion, add red wine, saturate porcini mushroom, and not to break hot pepper pods since they gets too spicy. All practical tips.
~Meatballs~

While cooking ragu sauce, preparation of meatballs and pasta dough starts. Firstly, mix ground meat, egg, bread damped then squeezed out excess moisture, Parmigiano cheese, minced garlic and Italian parsley well. Add small amount of olive oil to stick to small balls. Put them into ragu sauce then cook for more 30 minutes.
During this process, the professor keeps explaining the difference of bread or breadcrumb in Japan and Italy.
~Macaroni Pasta~
Start with dough. Circle with semolina flour to stop pouring, knead the semolina flour, salt, olive oil, and water. The professor shows example in front of us.
He sprinkles salt on the semolina flour, and olive oil particles shine in the water. We were amazed how quickly and easily he made the dough. Yes, that was master chef technic!
After mixing dough, we left it for 20 to 30 minutes in the fridge.
The amount of water and flour needs to be adjusted according to the size of egg and the fineness of the semolina flour. I assumed that it cannot be simply measured but that you need to learn by hand. The professor advised that we need more water for fine semolina flour, and that we need to pay attention when we start mixing dough.
(This time we also prepared black pasta with squid ink. While macaroni uses traditional ingredients without egg, this black pasta uses semolina flour and normal flour half and half, then egg to make dough.
In Japan, flour has much smaller grain in Italy, he sensed it out the right way and changed amount of mixture on the spot to make the right softness of the dough.
)
I was curious most how to shape macaroni. We took it out the dough from fridge, then cut into small pieces and twirled around skewers (like BBQ skewers with non-slippery surface). Then we rolled them on the board quickly and take the dough off from the skewers. This was harder than I expected. You should not push the stick too strong. Otherwise, the dough gets sticky and cannot be removed from the skewers. To prepare portions for 8 people, all of us including professor repeated this process: cut pieces, twirled, rolled, and removed dough. At first, we were clumsy but got more smooth and fun in steps. Some macaroni had holes, or irregular length, but it is OK. This added more feeling of handmade. Most important tip is keeping certain thickness of the macaroni, so that each piece can be boiled with the same amount of time.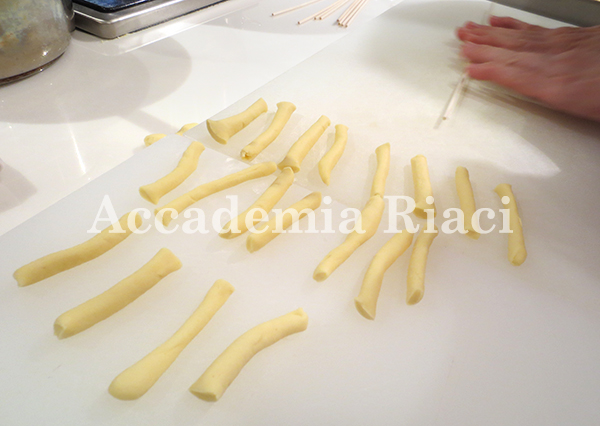 Finally, we boiled pasta and mixed it with sauce. Fresh pasta needs shorter time for cooking than dried one. According to the professor, to prevent pasta sticking each other, we can add some olive oil into the boiling water. Also, estimate shorter time of cooking,then sauté and blend with sauce for better taste.
Tasting time. Macaroni we prepared by ourselves one by one had perfect "al dente" texture, and ragu sauce blended with pasta tasted excellent. Indeed, best pasta I had ever had. Even pork lib and meatballs in ragu sauce can be served as main dish in other times. Therefore, you can enjoy this recipe again later.
Other recipes can be also arranged by changing shrimp or compote of the dessert. Prof. Coniglio said, "The characteristics of the Italian cooking are its regional variety and the method of getting best out of all ingredients." Yes, I agreed and I could taste each ingredient in all recipes. I was pleased with his comment that our macaroni had irregular shapes, but it was also very good for home cooking.
Not only home cooking lesson on that day, his lessons this time were arranged to use all ingredients available in Japan. You can practice his authentic recipes at home remembering his advises. The lessons were not just watching demonstrations, and you actually cooked by yourself, therefore, it is much easier to remember and practice later.
Moreover, Accademia Riaci school in Italy has Italian Home Cooking course you can join every week besides this Culinary Art Course for Professionals. You can learn best tasting Italian home cooking recipes you can prepare at your kitchen for life.