Student Services
Administration & Office of Admissions
International Students
Housing
Career Support
Information
The academy has an Administration Office and an international Office of Admissions, available to guide and assist students with any concerns. Students will be assisted with course selection, questions regarding life in Florence, where and how to shop for necessary items, transportation, residencial permit, insurance, visa, banking, tuition payment procedures, housing, language problems, school events, academic policies and regulations, educational planning and any related concerns. Counseling and Advice are always available upon request – be sure to make an appointment.
ADMINISTRATION
Accademia Riaci
Via dei Conti 4 – 50123 Firenze ITALIA
TEL: +39-055289831 
FAX: +39-055212791


OFFICE OF ADMISSIONS
Accademia Riaci Tokyo Office
5-15-20-702 Minamiazabu 
Minato-ku Tokyo 106-0047 JAPAN
TEL: +81-3-5449-1441 / +81-3-5449-8200
FAX: +81-3-5449-1444
accademiariaci@accademiariaci.info
Facilities
Free Wi-Fi connection is availavle 24/7.
Students can freely use the school's PCs during school hours.
International Students
Accademia Riaci welcomes students from all over the world. The diverse background of Accademia Riaci's students creates a rich multicultural community that promotes the exchange of ideas and viewpoints. The staff is multilingual and ready to assist overseas students wherever they attend our programs.
STUDENT VISA
A student visa is required for most countries in order to study in Italy for periods longer than three/six months. Students must obtain the information on visa procedures by their nearest Italian Consulate. To apply for a student visa, students will need a CERTIFICATE OF ENROLLMENT issued by ACCADEMIA RIACI, which should be taken to the local consulate. Visa procedures vary in each country, but please consider a minimum of 30/60 days for it to be issued.
For more details on visa information regarding your country, see this site – 
Ministry of Foreign Affairs of Italy

Note: The Certificate of Enrollment can only be recieved after the payment of the enrollment and tuition fee have been confirmed by Academia Riaci.
UPON ARRIVAL IN ITALY
Upon arrival in Italy, students must make an appointment at the Student Information Office to arrange a personal meeting with the Academy's staff.
SICKNESS AND ACCIDENT INSURANCE
In case an international student does not have any private international medical insurance, it is mandatory by Italian law to obtain insurance with INAIL, the National Institute for Insurance against Work-Related Accidents and Illnesses.
Note: Students from most countries (except for Schengen Agreement countries) need to submit foreign student insurance certification  to apply student visa in Italy.  
Housing
Accademia Riaci provides housing for its international students in fully furnished and equipped shared apartments located in the city of Florence. Italian apartments usually consist of 2 or 3 twin rooms (for use of up to 4 or 6 persons respectively) with shared kitchen, living room and bathroom. Single rooms are available at an extra charge.
*Accademia Riaci is pleased to facilitate the housing arrangement process for students but you are welcome to make your own direct accommodation plans.
Location
They are all located around 15-20 minutes by bus from the school, and may come with or without a host family. The final location of the apartment will be communicated to each student by a week prior to the course commencement date.
Shared Apartments
Sample Pictures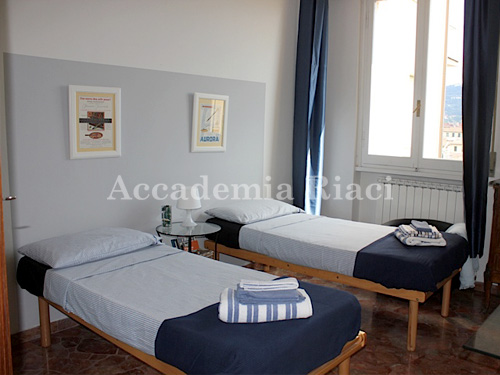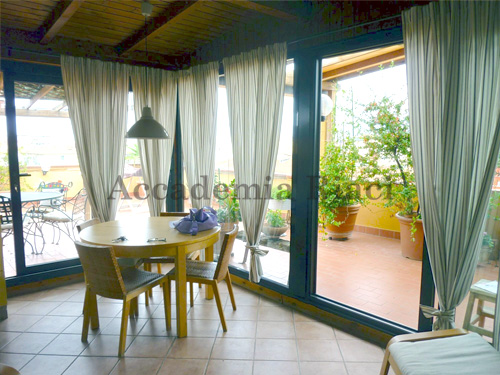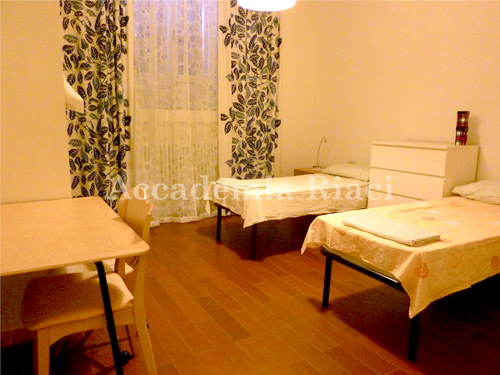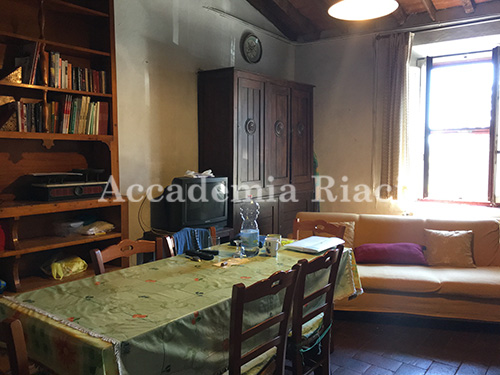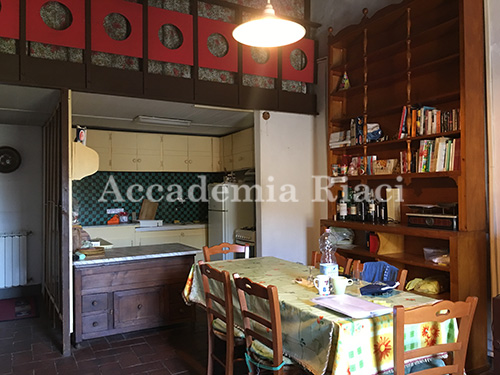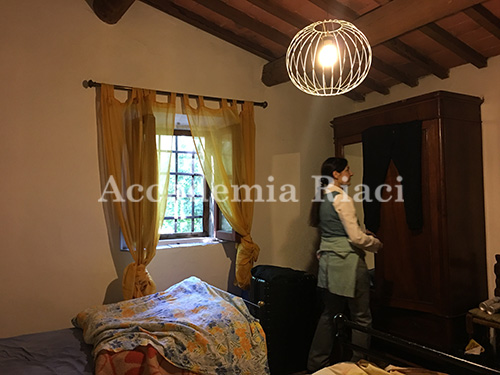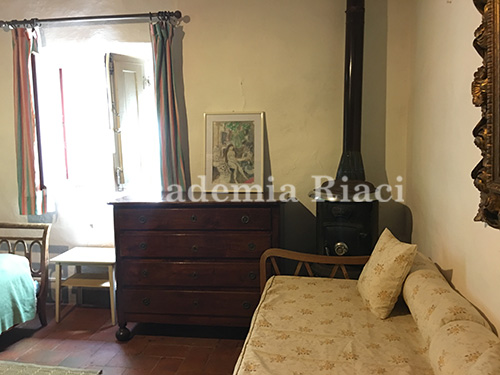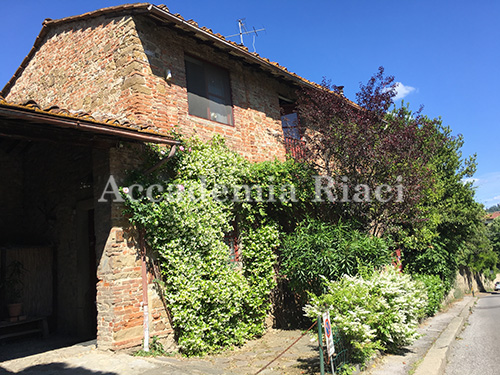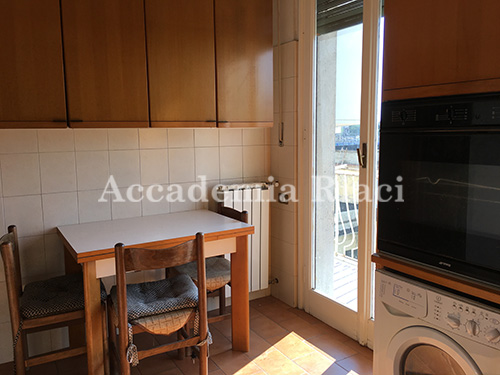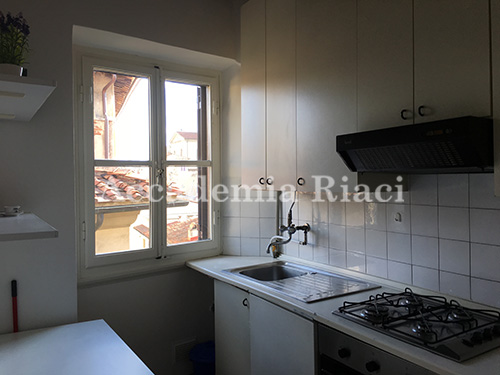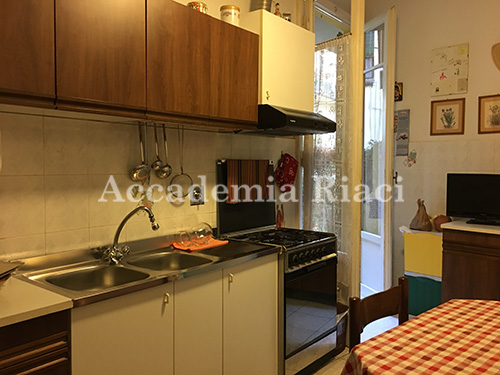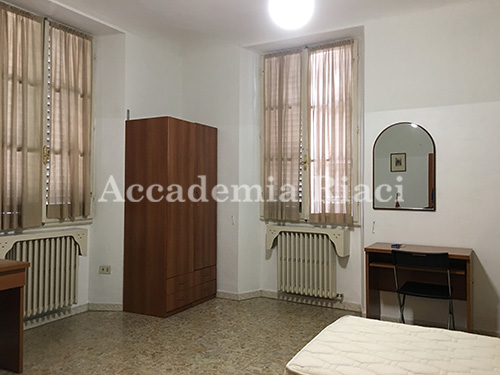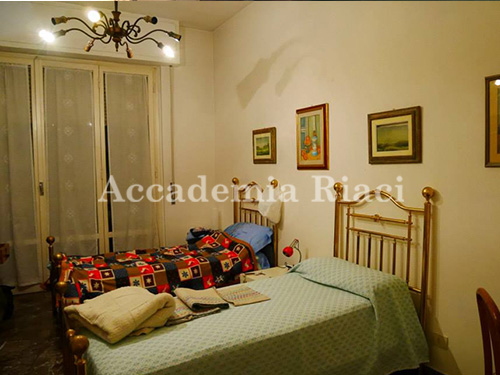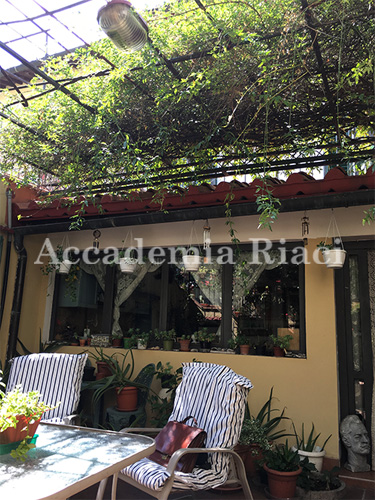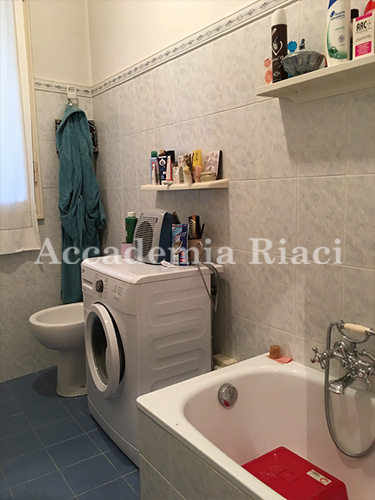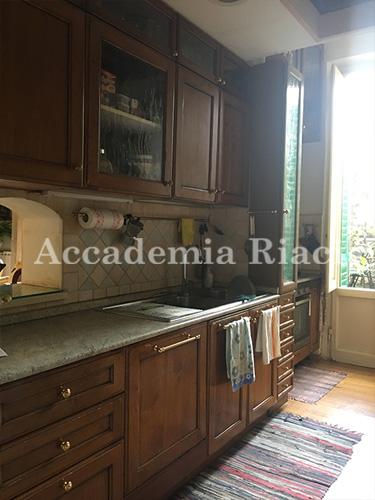 Rates
TWIN Room
SINGLE Room
1 week: 300 Euro
2 weeks: 380 Euro
4 weeks: 500 Euro
6 weeks: 750 Euro
8 weeks: 1,000 Euro


1 week: 400 Euro
2 weeks: 520 Euro
4 weeks: 700 Euro
6 weeks: 1,050 Euro
8 weeks: 1,400 Euro
*Utilities Expense (gas/water/electricity/heating):
 from April to October: 16 Euro a week
 from November to March: 26 Euro a week

IMPORTANT: Non-residents students must pay directly to the landlord the "Florence Tourist Tax" (€2.50 a night for up to a maximum of 7 nights in a row).

For other housing options such as Private Apartment or Homestay, please inquire.

For housing request, please fill out this form
Housing Request (Pdf)
and email it to the ACCADEMIA RIACI – OFFICE OF ADMISSIONS.
Assistant System at Accademia Riaci
Accademia Riaci is seeking for assistants who can work with us for a several years.
・Qualifications: Must be a graduate of Accademia Riaci course of 2 years or longer (incl. internship) to apply. Such graduates who achieved excellence at school are eligible to help instructors carry out lessons as an assistant. Its aim is to help such graduates review what they have learned at school and brush up their knowledge and techniques, before they go out into the world as a professional artist.
・This opportunity is offered to graduates who desire to improve their techniques furthermore through assisting lessons at school.
Main task:
Preparations for lessons
Lesson assistant
Cleaning up after the class
Interpreting in the class when needed
Assistant at school office
Submission of a lesson report with photos every week
Interviewing craftsmen in special fields
Visiting and interviewing companies in special fields
Helping internship students
Tutor for students
Drawing designs, etc.
Making sample parts, etc.
Supporting the work of students who wish to acquire scholarship
Assisting the launch of our project (construction of the 000 network among the undergraduates and the graduates to support the sales of their artwork.)
・Assistants at an excellent level are given an opportunity to work at Accademia Riaci as an instructor for a long period of time.
・Each assistant obtains a student visa as a specialist course student at Accademia Riaci. All lesson fee will be exempted. Your lessons consist of the research work for your assignment and the practical training you acquire by assisting the instructor in the class.
・1st year assistant does not get paid.
・2nd year and longer assistant gets paid the assistant fee based on the working hours in the contract.
Accademia Riaci Career Support
Accademia Riaci has career support system for students who graduated from Accademia Riaci to start up their career by offering small jobs for compensation, such as writing lesson reports, graphic editing, participating to international fairs for the school's promotion, etc.
Administration & Office of Admissions
International Students
Housing
Career Support