NEWS and Blog
May. 21, 2013 | Posted in Top Stories, Others | Tags:


Staff Blog≫

International Admission Office Staff
Hello, all. How are you?

Today, we'd like to introduce Accademia Riaci's International Admission Office Staff. In order to answer inquiries from all around the world, we have our extension office for admission in Tokyo, in the middle of Asia and America. We are always connected to Accademia Riaci in Florence, so you can get direct contact with the school through our Tokyo office, too.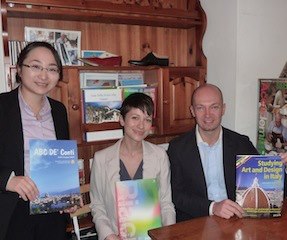 In the photo, from right to left, Carlo (Italia), Cristiana (Italia), and Sawako (Japan).

We can explain courses and admission process in English, Italian, and Spanish. Please feel free to talk to us! We are also available on Skype, just give us a message(accademiariaci@accademiariaci.info), and we will respond to you as soon as possible! Looking forward to hearing from you!