NEWS and Blog
Nov. 09, 2012 | Posted in Top Stories, Restoration of Paintings | Tags:


Staff Blog≫

Back to the past, and keep it to the future
Ciao, this is Accademia Riaci school staff.
Accademia Riaci is located in Florence, and the city preserves many world-famous art creations.
The technical experts, called "Painting Restorers", conserve conditions of many art works and pass down the future generations.
Florence has various culture properties, therefore, many restorers need to take care of them.
Also, students come to Florence from all over the world to study the restoration techniques.

To become a painting restorer, knowledge of drawing/painting, history of art, chemistry, and various types of paints are required.
However, we have heard that affection of art works, concentration, and patience are most important qualifications as a restorer.
Maybe passion and curiosity about the art piece and historical artists could be also mandatory.

By the way, many of us know that the Last Judgment in the Sistine Chapel in Vatican City was restored throughly for as long as 12 years from year 1980.
Do you know bristles of brush by Michelangelo were found during the cleaning process?
He completed this work with amazing speed, even he finished figure one by one everyday.
You can imagine his quick brush strokes over this painting.
This episode makes us feeling familiar with the great artist back in the 16th century.

Restoration of Painting course at Accademia Riaci teaches necessary knowledge and techniques step by step.
Off course, beginners and advanced students can join.
After learning basics, you have opportunities to work on actual vintage paintings.
This is genuine and rare chance to touch the history of art pieces.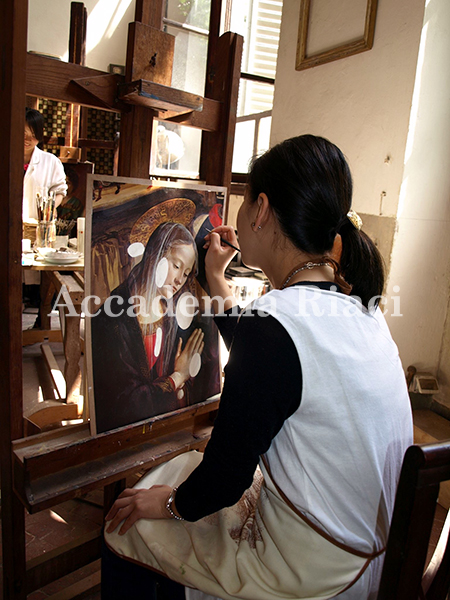 Student practices to fill up the cutouts in the poster.
If you are curious about restoration of painting, please look at
http://www.accademiariaci.info/academics/restoration-of-paintings/