NEWS and Blog
Sep. 01, 2012 | Posted in Top Stories, Painting and Drawing | Tags:


Staff Blog≫

Miniature Painting Course
Hello, this is Accademia Riaci staff.
Today, we would like to introduce lessons how to train miniature and trick art paintings (trompe-l'oeil), they can be learned in our popular Painting/Drawing course at Accademia Riaci.

《Lessons to draw 3D》
Both miniature and trick art paintings require practices to draw 3D objects, which can be expressed by the lighting contrast, not by color blocks.  Lighting expression is mandatory to draw solid objects, therefore, we deploy following lessons. 
・Difference between sphere and hemisphere.
Draw two circles using compass.  One circle should look like a sphere, and the other should look like a hemisphere.  Those two have quite different lights and shadows.  A sphere has shadows or lights from backside.  The latter one has a flat surface on the back, it does not have lightings from backside, hence it does not like a sphere.  Also, to achieve trick art technique, we practice to draw a view to see through a whole on the white wall.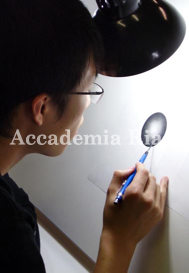 ・Draw 10 different shades.
Using only pencils, practice to draw 10 different gray tones.   The gray scale has totally different light and dark control on the surface.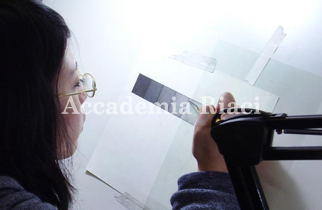 ・Draw white plaster stature
A white plaster stature is difficult to draw, since  it has complexed shapes, and cannot be expressed by coloring.  Detailed observation of the light laid on the stature is a good practice for accurate drawing.  Without this basic, you cannot draw even colored 3D objects such as flowers with volumes and curves of the stems.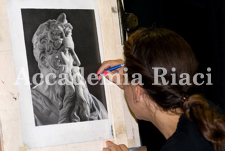 ・Nude drawing
Human body has also 3D shapes.  Not like white plaster stature, it has colors.  Drawing human body is a good practice not to be confused by colors, but to command light and dark control precisely.  Lack of accurate shading makes flat paintings, for example, in frontal picture, ears look like on the same surface of the face.  Actually, ears must set back from the face.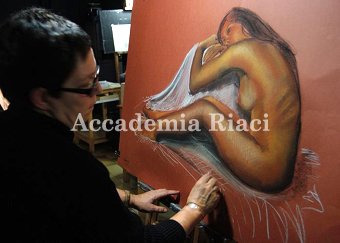 These art techniques can be mastered through practices.  Our academic course will start from October 15th.  If you apply now, you can still make it!  You will be able to complete fantastic painting or drawings like our student works.  Enjoy your artistic creativity at Accademia Riaci.

【Miniature Paintings】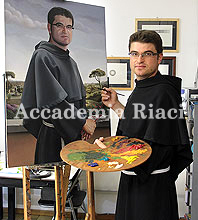 Portrait, oil on wood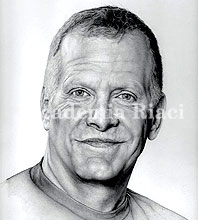 Portrait, drawing on paper cm. 30X40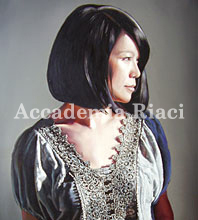 Portrait (Asian Girl) , oil on wood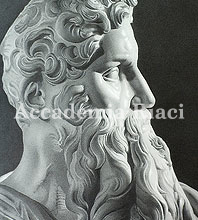 Statue of Mosea drawing, graphite on paper cm. 30×40

【Typical trick art paintings】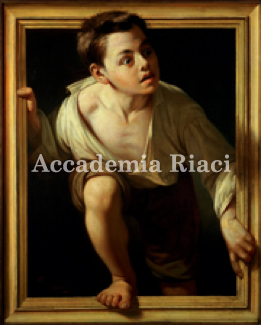 Even picture flame is painted, it looks as if the person jumps out of the flame.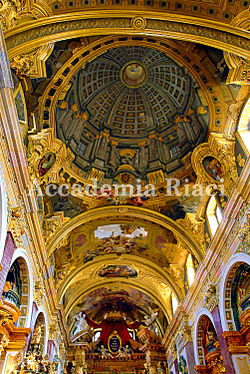 The ceiling looks domical, it is actually painted on the flat surface!