NEWS and Blog
Jul. 20, 2012 | Posted in Top Stories, Textile Design | Tags:


Staff Blog≫

Textile Design
Hello, this is Accademia Riaci school staff.  

Today we would like to introduce our Textile Design course.
Textile is broadly used in our life for: 1. Interior fabric including wallpaper, curtain, sofa, tablecloth, sheets, bedcover, tapestry, or carpet. 2. Apparels such as clothes, scarf, stole, and tie. 3. Accessories, for example, bag or handkerchief.
There are several materials and expressions for the textile design.
There are various pen drawing, oil painting, acrylic color, silkscreen or printings, composite photograph, and creative computer expression has limitless possibilities–computer graphic with Photoshop or Illustrator.

In fabric making, Javanese batik printing in Indonesia, colorful hand-woven tapestry from South America, embroidery by Miao tribe in Vietnam or Laos, Norwegian textile, or wax batik printing in Japan are famous.  
In Italy, linoleum is also common.  Linoleum was invented more than 150 years ago in Europe.  
It looks like PVC, but it comes from natural materials.  
Linoleum is very versatile and unique material, easy to cut with knife or small blade, easy to process by heating, and flexible to cover curved surfaces.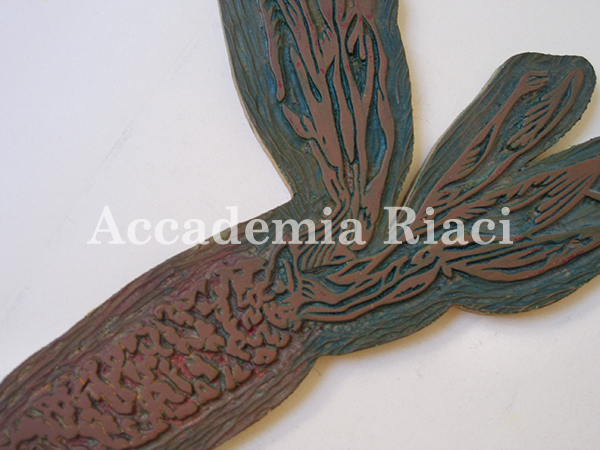 In Textile Design course in Accademia Riaci, not only designing in the classroom, you will actually make your own works with several materials and methods.
Batik, stencil, template, pen drawing, brush painting, miniature, pointillism, printing, or transfer printing with natural materials can be studied and learned.
Of course, we complete colored-fabric creation using linoleum for dynamic and bold expression.