NEWS and Blog
May. 11, 2012 | Posted in Top Stories | Tags:


Staff Blog≫

Recommended places around Accademia Riaci school
Hello! This is Accademia Riaci school staff.
Today let us introduce our school location.
Accademia Riaci is situated in the right center of Florence!!
From the symbol of Florence, Duomo (Cattedrale di Santa Maria del Fiore) is few minutes walking distance, in the busiest area in the city. Tourists visit from all over the world and they are checking rows of apparel stores, CD shops, restaurants, or souvenir shops.
As you already know, Florence is known as capital of fine arts.
There are dozens of small to huge museums, art galleries, and antique shops. Even you can find art specialty bookstores and supply stores, giving great artistic inspirations to students in Academia Riaci art or design courses.
Short stroll takes you to must-see places such as "Basilica di San Lorenzo", "Cappelle Medicee", or "Palazzo Medici-Riccardi". Living here is actually like you are living inside a huge museum.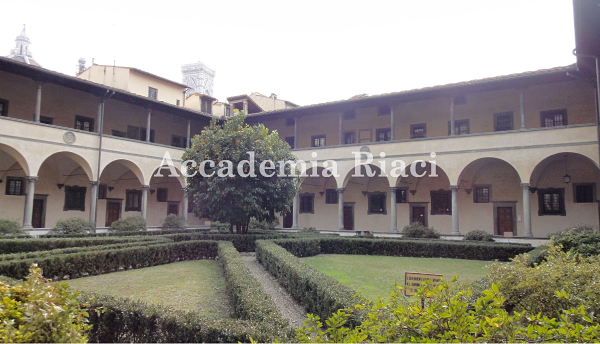 <Corridor in "Basilica di San Lorenzo" in the neighborhood. >
Here is very quiet and relaxing, totally different from the crowded outside.
This hearty city does not satisfy your eyes only, but also feeds your stomach! Vendors are lined up selling tons of fresh meat, cheese, or vegetables in the central market nearby, and it is fun just watching colorful ingredients and products. For lunch, you can ask them to make a sandwich with ham or cheese of your choice, or you can try one of the Florence local foods, Lampredotto (cow stomach) sandwich. Such local food is very tasty and has friendly price to students, much cheaper than touristic places. Please be noted that the central market is open till two o'clock in the afternoon.
Italian people adore their hometown, and they are very proud of it. They call themselves as "Fiorentina". When you study in Florence, fall in love with this town and feel their local pride!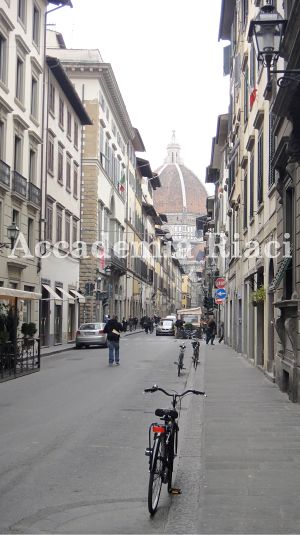 Duomo pops between the buildings in the street.
When you come over Florence specially, enjoy your days living close to world heritage.