NEWS and Blog
May. 08, 2012 | Posted in Top Stories | Tags:


Staff Blog≫

30/04/2012 Notte Bianca (White Nights Festival)
Hello, this is Accademia Riaci staff.
"White Nights" comes from the story written by Fyodor Dostoyevsky, it means twilight in the night of St. Petersburg.It continues few hours after sunset. Due to the latitude of Arctic area and refraction effect, they have sunlight after evening. Also in 1978, more than 1,000 people in cult group leaded by Jim Jones took their own lives at the same time. These mass suicide events were also called "White Nights".
Notte Bianca (White Nights Festival) started in 1997 in Berlin, then Paris and Rome joined in 2003. In Italy, Milan and Florence also followed this festival, and many events are held in different styles through the night. Bars, restaurants, bookstores, and other shops are open till late night.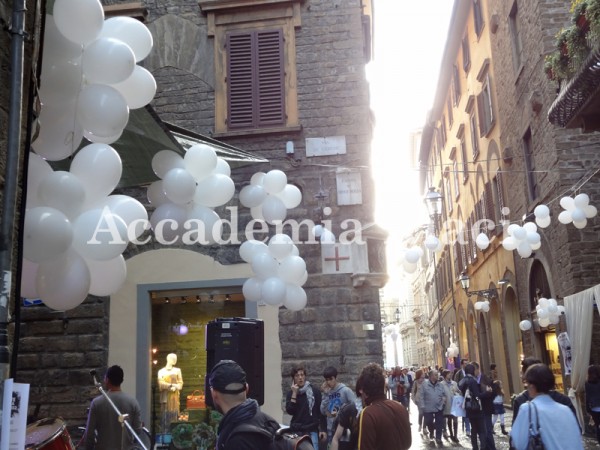 ・Everything in Florence has white decoration. You see white balloons everywhere.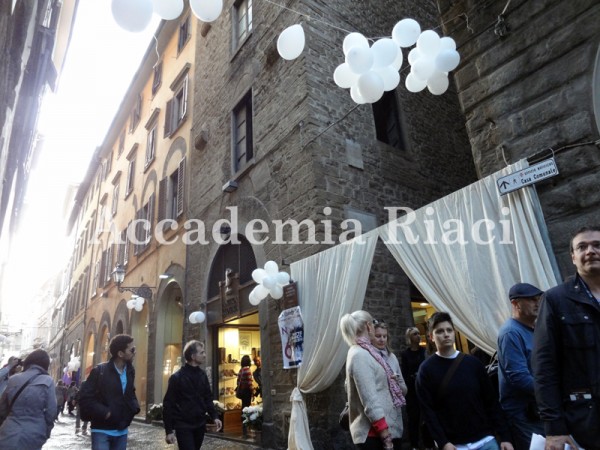 ・Quartet music concert was playing in the ally over the white curtains. Flowerpots are also dressed up with stylish white ribbon special for Notte Bianca. Even pink hydrangea somehow turned into bright white only that day.
By the way, I was looking forward this night since someone said there were music concerts in the squire in front of Accademia Riaci. This year that was Rock music and they had a huge crowd. Laser lights were flushing across the squire, and our school windows with vintage wooden flames were rattling to the sounds.  I was overwhelmed with the number of people. At least, I could easily count as many as 1,000 people from our window. Everyone was dancing to the rhythms, and the square became an outdoor disco. Probably 3,000 audiences were packed within in 200m from Duomo Square to Accademia Riaci. Well, Notte Bianca is one of the craziest nights!