NEWS and Blog
Feb. 10, 2012 | Posted in Top Stories, Apprenticeship, Others | Tags:


Staff Blog≫

Sculpture course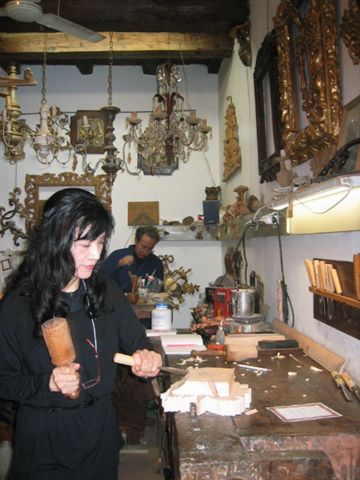 Hello, there. How are you?
It is very cold, so take care not to catch a cold (if you are in the norther hemisphere, of course).
Today, we would like to introduce our Sculpture course. 
In Accademia Riaci, the lessons of sculpture course are held mostly in actual sculpture laboratory!
It is like you become apprentice under Italian maestro.
You can study various materials, such as Frame Making (for paintings), Furniture Decoration, Wood Carving, Stone Sculpture, Clay Figure, etc. In the photos, you can see the works of our student who studies Furniture Decoration with our Art Short Course with Interpreter. Aren't they beautiful?
The student commented:
"Thanks for a great experience. The work of grape was realized according to my desire to carve something with depth and decorative, and the maestro and I decided on grape as the theme…It was also useful to learn how to sharpen the chisel. The lessons were just as I wanted, and the maestro had a great personality, and I spent really fruitful 16 hours."
She said that she would like to come back again next year, and she started saving budget already.
It is good to have a clear objective to plan a successful studying abroad, indeed, and we are happy to hear students wanting to come back.
As our lessons are held on individual basis (max. 8 students per professor) both those with experience and those without any previous experience can participate to our Sculpture course and get customized instructions!
If you are interested, please do not hesitate to contact us!
Accademia Riaci Staff