NEWS and Blog
Oct. 22, 2011 | Posted in Top Stories, Visit, Professors and Staff | Tags:


Staff Blog≫

Accademia Riaci Academic Year Started
Hello, there.
As the our Academic Courses have started just this Monday,
the school is bustling with new students and professors, and interpreters.
It is one of the busiest and also lively moments of the year for the school.
This year, we have students from various countries such as, Mexico, the US,
China, Spain, Romania, Portugal, Indonesia, Russia, USA, Honduras, Pakistan, and Japan.
We are looking forward to see them develop their skills and abilities
to the full with the instruction of our professors and hard working,
towards June's graduation exhibition and Florence Design week.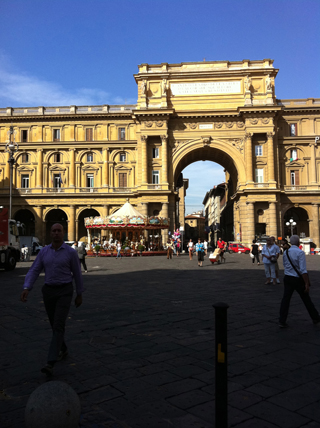 Today, we would like to introduce some of our school professors and staff.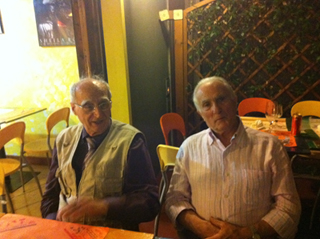 Here we proudly present two of Accademia Riaci's greatest maestros.


On the left is Prof.Fioroni who teaches Graphic Design,

and on the right is Prof. Angelo who teaches Shoe Making.
Prof.Fioroni teaches graphic design, on various themessuch as advertisement,

illustration, publishing design, package design, etc.

His character and earnest in teaching is very popular among students.
Prof.Angelo has experience in shoe making for more than 50 years,

and he is said to be the best maestro in Italy.

The shoes he made are sold for from $2,000 to more than $4,000, 

and his students are succeeding in all over the world.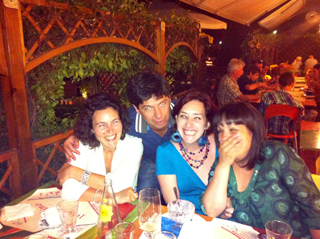 The one behind is Prof. Daniele who teaches Jewelry Making.

This photo has been taken in a Pizzeria (Pizza restaurant) near the school.
He was born to a family that has prospered as jewelry maker for generations,

and he has started learning jewelry making and design at 14 years old.

He has since then mastered jewelry making techniques at highest level, 

including Florentine traditional techniques such as incisione and Florentine open work. 

His teaching style is thorough, and teaches to produce hand-made high quality jewelries

that cannot be reproduced by machine.
On his left is Prof.Sara who teaches Italian Language, and on his right is Prof.

Monica, who teaches painting. On the right is Emanuela, who's in Accademia Riaci's secretary office. 

She is very friendly and helpful.
At Accademia Riaci, there are much more teachers for each course,

all of whom are top-level working professionals.
Please come to Accademia Riaci in Florence to brush up your artistic skills and senses, 

with best professors and friendly staff.